16/04/2021
Biden's Climate Summit will determine the state and direction of climate change in the world
America is once again sensitive to action against climate change. That is why US President Joe Biden has invited the leaders of the 40 countries that contribute the most to carbon emissions.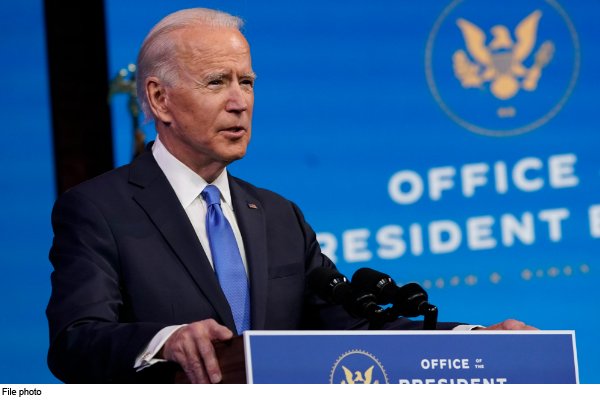 Apart from this, some countries are also among the invitees who are most vulnerable to the effects of climate change. The gathering of these world leaders will take place in a virtual meeting called 'Leaders Summit on Climate' on April 22-23. This committee is seen as a big opportunity to revive climate ambitions, as many countries are preparing a plan to solve the worsening Kovid-19 epidemic and the difficulties arising on the economy front. There is a mosque. This meeting, convened by President Biden ahead of an important meeting to be held in Glasgow, Scotland, in November this year, will be a litmus test of how the United States inspires global action on climate change.
It is expected that by the time of that meeting Japan will have strengthened its climatic goals. Apart from this, Canada and South Korea have also indicated strong resolve for the near future. The relationship between the US and China, which has already reached a critical point, will also be watched. Also, there will be an eye on Brazil and India. Britain, chaired by the Biden administration and COP 26, is aiming for an agreement with Brazil to reduce deforestation, while climate envoy John Kerry is encouraging India to achieve the goal of net zero by 2050 . He is also exploring the possibilities of how to use American money in India's renewable energy revolution.
A webinar was organized by Climate Trends to discuss all the possibilities and aspects related to this important meeting, including co-chair of the International Resource Panel and former Brazilian Environment Minister Ezabella Teixeira, WRI India's Climate Program Director Meteka Kelkar , Rachel Cleetas, policy director of the Climate and Energy Program at the Union of Concerned Scientists and former Obama Climate Advisor and founding president of the Center for American Progress, John Podesta.
Rachel referred to the difficulties faced by countries for the pollution-free economy in the past due to Kovid-19, "Kovid-19 has broken countries." The countries that gave the green commitment today are unable to fulfill their resolve because of it. "
He said that the goal of Net-Zero is important for the whole world. We have to stop investment on fossil fuels altogether. Dialogue between India, Canada and Europe is necessary to increase global climate ambition by increasing the cooperation of renewable energy technology. It is entirely up to the Biden government how it moves the resolution.
Rachel said more than 300 businessmen and investors, including giant companies such as Apple, Google, Microsoft and Coca-Cola, are calling on the Biden administration to set an ambitious climate-change goal that will reduce US emissions of greenhouse gases In the year 2030, a reduction of at least 50% could be done based on 2005 levels.
Indeed, this goal would double the weight of the resolution previously expressed by the US. This will require dramatic changes in electricity, transport and other sectors. President Joe Biden is considering options for an expected reduction in carbon emissions by 2030, as he intends to move towards the ultimate goal of net zero carbon emissions by 2050, so the nationally deterred contribution will be a milestone.
Among the leaders whom Biden has called for a virtual meeting are Prime Minister of India Narendra Modi, Chinese President Xi Jinping, Russian President Vladimir Putin, Japanese Prime Minister Yoshihida Soga, Brazilian President Zaire Bolsonaro, Canadian Prime Minister Justin Trudeau, Israeli Prime Minister Benjamin Netanyahu Saudi Shah Salman bin Abdulaziz Al Saud of Arabia and British Prime Minister Boris Johnson are also included.
John Podesta said in the webinar, "Now is the time when Americans are beginning to understand the impact of climate change and realize that climate change is hurting them more." People all over the world are beginning to realize this, so the summit on April 22-23 will be very important. The US administration has pointed to some major goals. Net zero economy by the year 2050, making the energy sector 100% pollution free by the year 2035 and doing this transformation in a fair manner. Recently, Biden has also put forth the US employment plan, which calls for an investment of $ 240 million, which will be invested in the clean energy sector. We are moving towards our goal with the cooperation of private and government sector as well as the people of America. I hope that in the coming time, when America will participate in the summit, America will have to re-establish its credibility.
He said that the Biden government would also have to include the aspect of climate in its economic and diplomatic strategy. The United States will have to increase its strategic partnerships so that a policy can be made with respect to the entire world, which can reduce the target of carbon emissions. A $ 1.2 billion resolution has just been expressed under the Green Climate Fund. The President had also said about this in his budget speech, but overall more needs to be done. The world will need an investment of $ 80 trillion over the next decade for climate mitigation and climate resilience. We have to stop the public's hard-earned investment on coal power stations and all sectors of the American economy have to work unitedly to achieve the goal of Net Zero.
Meteor Kelkar said on this occasion that we have the same expectations from the Biden administration as Obama used to do with the government. Although the $ 1.2 billion GCF budget is not up to expectations, one hopes are raised by the strong announcements made by the US administration. Apart from this, Canada, Japan, South Korea, China have also given positive signs. In the Indian perspective, I would like to talk about three things that really give hope. The steps being taken to create a climate-friendly economy are completely different from before and have their own benefits. This will reduce untimely deaths due to pollution. Large amounts of water will be saved, creating new employment opportunities in the green sector such as renewable energy and electric mobility. This will have an impact in different areas. This will definitely benefit in the form of fossil fuel saving. India will also benefit greatly. This will save a lot in terms of saving fossil fuels.
He said that the Government of India depends on many fossil fuel based tax revenues. Now we are moving towards clean fuel. May be we see these tax cuts, which can reduce our ability to invest on health and education sector, so we need a business model, not just technology.
Ulka said that if you look at the projections of 2050, which sector and which technology will contribute the most towards carbon reduction by 2050? In fact, only future technologies will be able to do this, such as complete electrification of Indian industry, use of hydrogen from renewable sources. While this sounds all very expensive things, but if you look at it in a cohesive manner, electric mobility will be the biggest contributor towards achieving the target of Net Zero by the year 2050. If we adopt electric mobility, it can be of great help. In the US, electric mobility means car and bus, but in India, electric mobility means two-wheeler. Talking about long distance trucks, you cannot stop the trucks for charging all night, so there will be a big role of technological partnership here. For this, fast charging equipment, hydrogen supply chain etc. will be required.
He said that several Indian states have announced that they are no longer going to invest in coal. Coal is no longer a profitable deal. When we talk about the decarbonization pathway for a country like America, it means conversion, to withdraw from something that is already there. For a country like India, the International Energy Agency has presented its approach. 60% of the carbon we emit comes from things that are not yet formed, so this would be a different kind of conversion. Actually a different type of equitable conversion will be needed. In India, we are not only talking about the loss of fossil fuel jobs but now we are also talking about how to provide new jobs in a better way, how to create a new infrastructure in a more responsible way. Go We have to focus on equitable conversion. This is definitely a difficult task, but it will definitely have to be taken care of.
Co-chair of the International Resource Panel and former Brazilian Environment Minister Ezabella Teixeira said on the occasion, "The meaning of climate change has changed today. In my view, it is heartening that America has once again stood up to combat climate change because of its new leadership. We not only have to work on carbon mitigation and adaptation, but also work on new partnerships all over the world. Will happen. It is very important for us to understand how this international cooperation moves forward.
He said that this has to be kept in mind while setting the bilateral target on climate as well as we have to take forward the pace of development. This question is also related to China, Germany and Norway. Shared interests have to be worked out to persuade all parties. This will be necessary during the upcoming summit.
Ezabella expected the leadership of her country Brazil to work more seriously towards serious issues such as climate change and the goal of Net Zero, saying that Brazil would have to move forward with a more robust resolution.