25/11/2020
Celebrating Egas after eleven days from Diwali in Uttarakhand
One of the main festival of Uttrakhand is celebrating Egas, which comes comes after 11 days of Bagwal (Deepawali). Actually, the festival of Jyoti festival, Deepawali, reaches the top of today, so this series of festivals was named as Egas-Bagwal. This festival is celebrated same passion as Diwali celebrated, thats why it is also known Choti Diwali.
According to mythological beliefs, when Shri Ram returned from exile to Ayodhya, people welcomed Karthik Krishna Amavasya by lighting diyas. However, Kartik Shukla Ekadashi came to understand of Rama's return to Garhwal region, eleven days after Diwali. that's why the villagers expressed their joy and celebrated Diwali on Ekadashi.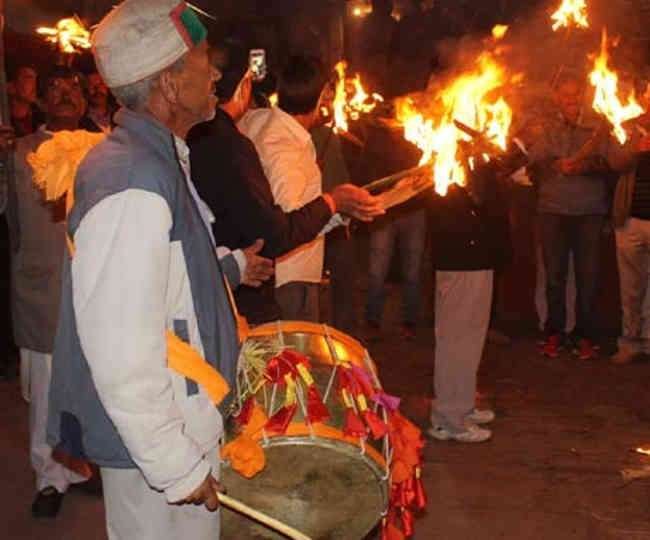 According to the second belief, during Diwali, Garhwal's army under the leadership of Veer Madho Singh Bhandari of Garhwal won by winning the battle of Dapaghat, Tibet. On the eleventh day of Deepawali, the Garhwal army reached their home. Deepawali was celebrated at that point within the joy of winning the war and reaching the soldiers home.
Another belief in Chamoli district is that Bheem – one among the five Pandavas – went call at jungles and didn't return on the day of Diwali. "Therefore, his mother Kunti didn't celebrate Diwali on the day and celebrated the festival after 11 days when Bheem returned home,"
According to Jyotishacharya Dr. Acharya Sushant Raj, Haribodhani Ekadashi is Igas festival, Srihari awakens from the dead. On today there's a law to worship Vishnu. If seen, in Uttarakhand, Deep Parva starts from Kartik Krishna Trayodashi, which continues till Kartik Shukla Ekadashi is Haribodhani Ekadashi. The gods worshiped Lord Vishnu on this occasion. For this reason, it had been called Devauthani Ekadashi.
Egas-Bagwal main attraction is playing Bhaila (Small lumps of pinewood are tied with the rope), rather than fireworks on the day of Igas-Bagwal. Especially on the day of Badi Bagwal, it's the most attraction.
After which individuals reach the high place of the village and fire the Bhaila. The performers hold the rope and dance it carefully over the highest of their head. this is often called playing the Bhaila. it's believed that by doing this, mother Lakshmi removes all the sufferings and provides happiness and prosperity. There's also a practice of pandav dance with Pandoli (Gandav Gatha). Since Uttrakhand has most devotees of Padav and Shiva so their traditional dance is Pandav Nirtya which is most popular traditional dance in garhwal region.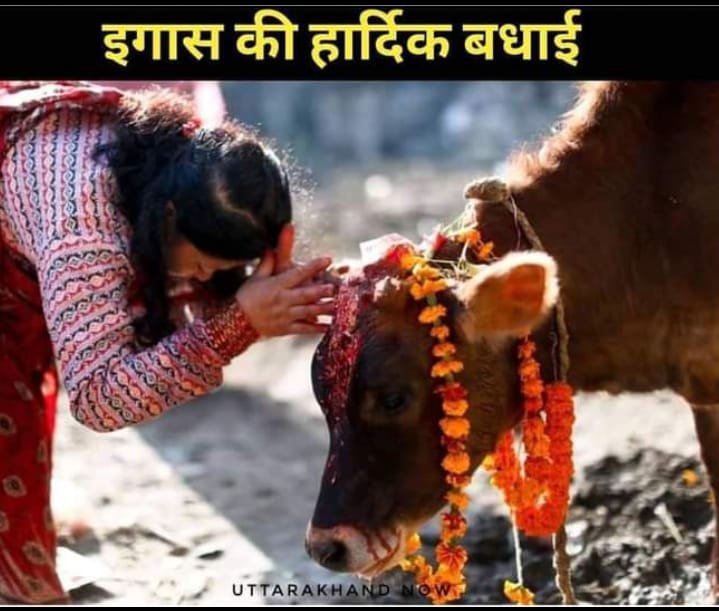 This is the exceptional day for cattle, especially caw are worship, people feed special food prepared for them and taken care with full respect. Barley and other food grain are prepared for them, On this day cattle are taken special respect with garland of flowers etc.
People also prepared special food and sweets for themselves and distribute among themselves in family, villagers and neighbouring villages too.