24/03/2021
Climate Change: More than half of the world's countries are ready to be net zero
61 percent of the world's countries, 9 percent of the world's most polluting countries and 13 percent of the cities with a population of 5 million are now committed to net zero carbon emission. Not only this, every fifth of the world's 2,000 largest public companies (21% of companies), with a turnover of around $ 14 trillion, has also set a target of achieving net zero carbon emission.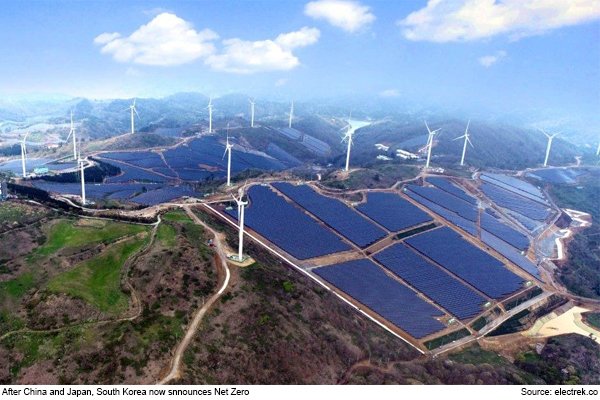 This was revealed from a recent report by the Energy and Climate Intelligence Unit (ECIU) and Oxford Net Zero.
Not only this, most of these companies have not only an interim target but also a published plan and a reporting mechanism. Very soon, they have also prepared a complete set of 'tremendous criteria'. But the authors of this report also warn that if a good governance, transparency and a reliable offsetting are not prioritized, then these countries and institutions can be accused of negligence.
Titled Taking Stock: A Global Assessment of Net Zero Targets, this first-of-its-kind report provides the first systematic analysis of net zero responsibility across countries, sub-national governments and major companies.
Through this report, it has also been properly told that what is the minimum set criteria of these net zero goals in the 'Race to Zero' campaign set by the United Nations, or the starting line that leads it to the goal , All of this is also mentioned.
At present, only 20% have been able to achieve the current net zero targets and in such a situation, there is a lot left to do before COP 26.
Richard Black, senior associate at ECIU (Energy and Climate Intelligence Unit) and lead author of the report, says, "Although the concept of net zero carbon emission is still in its infancy, and its policies are changing." But clearly in order to keep the global climate goals of the world on track, more and more countries, states, regions and companies have to sign up and improve the existing promises and policies.
He adds, "There is a need to create a plan and reporting mechanisms to set a goal and then achieve it, but companies and countries alike also need to work continuously to keep pace with COP." Will be. Countries like Japan and the United States will need to stick to the promise of maintaining their ambitions to achieve the net zero emission target by 2030. "
The report also identifies a lack of clarity on how countries and companies are using or misusing offsetting to meet targets. Additionally, it also warns that there is a limit to nature-based offsets, so you cannot rely solely on it.
Dr. Thomas Hale, co-author of the University of Oxford's Blavatnik School, states, "While the rapid increase in net zero carbon emission targets is encouraging, we need a lot more clarity from those who do this. Make plans to reach. It is especially important to clear your approach to offset those performing this task.
Although some areas may require some offset for the so-called "residual emissions", the most important is to reduce emissions as soon as possible. If every company and country depends on offset rather than actual emission cuts, then we will not be able to achieve this at the global level. "
Of the total 61% of global emissions of countries with a net zero target, 68% of the global GDP is (in relation to PPP) and 52% of the global population. Governments should also make it clear that report authors support their promises through reporting mechanisms, published plans and credible interim targets. There are now 124 countries that are dedicated or consider net zero carbon emission, and countries like Australia that do not have such goals are in minority and are seen to be isolated, it has been seen.
Led by the COP 26 Climate Summit in Glasgow, the focus will be on the number of entities achieving the Net Zero Carbon Emissions target and their ability to help keep climate change within the 'safe' range by 2030 under the Paris Agreement will focus. (Known as Nationally Determined Contribution or NDC). However the report also records that if countries have interim targets, there is a need to gain information to find out how favorable or unfavorable these interim targets are to achieve the net zero carbon emission target.
Kate Cullen, co-author of Net Zero Policy Researcher at the University of Oxford, said, "Targeting is the first step and should be used as a starting point for how countries, states and companies have developed plans to specifically cut emissions It is important that this is achieved in the shortest possible time.
"By working in this way, it will be very important to set a baseline for the net zero carbon emission targets at the global level, so that it stays on track better and can be properly measured, and also develop criteria to measure Help how strong the plans are. Net zero is already a useful lens through which we can see the progress of changes in climate fixing; Strong monitoring, evaluation and assessment will help improve it. "
Dr. Steve Smith, co-author of the Smith School of Enterprise and the University of the Environment, Oxford, said, "Net zero carbon emission is not only a clear and simple goal, it is the global need today to stop the rise in temperature. The Net Zero Target The most useful when they are carried out for the near-term, are also focused on clean plans, reporting and other governance mechanisms that will help those who work on it stay on the right track. "