14/06/2021
Partial lockdown did not have a significant impact on air pollution levels, it is necessary to track pollution levels
Like last year, for a few months this year too, some parts of the country have been incomplete or partial lockdown due to the second wave of the COVID-19 pandemic. But this time there was no significant positive effect of these complete or partial lockdowns. The reason was probably their timing. After the horrors of the virus, the lockdown was imposed, but partially. By then much had been done.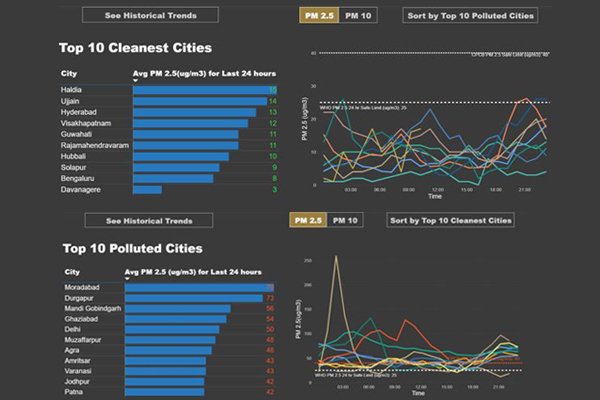 Last year's lockdown was made memorable by the improved environment, but if we talk about this year's air pollution, unlike the year 2020, pollution levels in many major cities of the country are not only above the prescribed limit of the World Health Organization (WHO). but also above the prescribed limit of Central Pollution Control Board (CPCB). This trend was detected from the tracker of the National Clean Air Program, where continuous monitoring of pollution level data is available.
Pollution is believed to be a winter problem, but air pollution levels in various parts of the country during summer have been above acceptable limits, contrary to popular belief. Experts and health professionals stress the need to address not only the quantum of pollution but also its sources.
Dr G C Kisku, Chief Scientist and Environmental Toxicology Specialist at the Indian Institute of Toxicology Research, Lucknow, believes, "The year 2020 saw a very strict lockdown and its impact on the environment was visible almost immediately. This year, in the name of economic recovery, not only fuel burning activities were relatively high, but the lock down was also partially imposed. This is the reason why the air quality did not see the same improvement as it was last year.
Dr Kisku recently conducted a pre-monsoon assessment of Lucknow's air quality and found that the pollution levels may have decreased slightly compared to the pre-Covid figures, but they are still above the standards. Rather, this year the level was higher than last year. He adds, "The overall good effect of all this was that this year the heat was felt almost non-existent as there was a mixed effect of the lockdown and reduced fuel consumption. But it is necessary to take the right policy decisions so that the situation improves."
Professor Alok Dhawan, Director, Center for Biomedical Research, Lucknow, was also worried after seeing these pollution figures. He said, "Pollution has a direct impact on health and the hope that was given last year seems to have been shattered this year. This is the time for some concrete decisions so that the environment is continuously protected in public interest.
Dr Sundeep Salvi, former director of the Chest Research Foundation, Pune and founder of Pulmocare Research and Education (PURE) (Pure) Foundation, says, "Amid the pandemic, as people continue to breathe polluted air, Their immune system becomes more susceptible and weakened, making them more vulnerable to the COVID-19 virus."
Highlighting an important aspect of the problem, Dr. Santosh Harish, Fellow, Center for Policy Research, New Delhi, said, "We talk about air pollution only when they reach toxic levels in northern India during winter. But at least four out of five Indians are exposed to dangerous levels of pollution throughout the year. Reducing routine exposure to air pollution levels that exceed national standards requires sustained government efforts throughout the year and across the country. is."
Further, Dr. Sagnik Dey, Coordinator, Center of Excellence for Research on Clean Air (CERCA), IIT Delhi, stressing on continuous monitoring of pollution levels and mitigation planning, says, "Air pollution is not a seasonal problem and Therefore there is a need for long term planning for mitigation which is also missing in current clean air action plans of non containment cities. It is important to prioritize problems, identify timelines and resources, and fix accountability. Everyone is exposed to high pollution during winter. level and focus on emissions from crop burning, but we also need to prioritize and reduce emissions from transport, industry and many other sources. Pollution in 2020, the year of the COVID-19 lockdown was lowest, but the level was still nearly three times the WHO annual safety limit of 10 ug/m3."
It is important to mention the National Clean Air Program (NCAP) here. Under the NCAP, the government aims to reduce India's particulate matter (PM) air pollution by 30%.
The good thing is that NCAP tracker is now available to keep track of pollution levels. Through data collection and evaluation in this tracker, it is possible to keep track of pollution levels. The data source for the tracker is the Central Pollution Control Board's Continuous Air Quality Monitoring (CAAQMS) dashboard. The pollution levels in the country and in Maharashtra, Uttar Pradesh, West Bengal and Delhi over the past few months paint a worrying picture.
With this feature of the tracker, it now remains to be seen how much its data contributes to policy making.