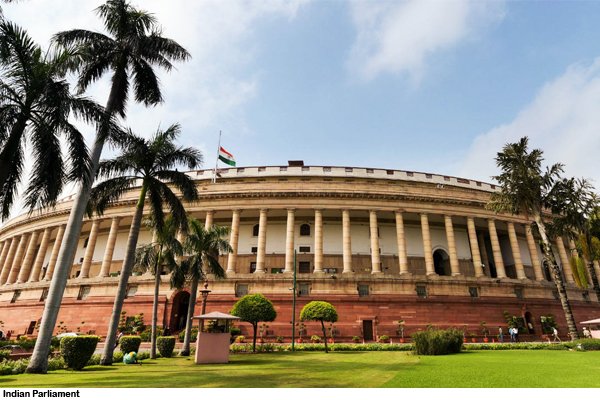 New Delhi: On the first day of the monsoon session of Parliament, 24 members of the Lok Sabha have been found to be corona virus positive. Sources reveal that Junior Railway Minister Suresh Angadi, BJP's Meenakshi Lekhi, Anant Kumar Hegde, Parvesh Sahib Singh, Rita Bahuguna Joshi and Kaushal Kishore were among the 24 MPs who suffered from the viral disease. Corona positive Lok Sabha members have informed the Secretariat about their health status.
Let us tell you that before the commencement of the monsoon session, it was made a rule that all MPs and employees will undergo the Kovid test, they will be allowed to enter the premises only after the report comes negative. The rule is also that their report should not be earlier than 72 hours.
However, before the commencement of the session many aged MPs of both the Houses had expressed concern over it. He said that at the start of the session, at least 2,000 people will be present in the campus even amid the guidelines. According to official figures, out of 240 MPs of Rajya Sabha, 97 MPs are over 65 years, while there are 20 MPs who are above 80 years of age.
Since this viral disease remains a threat to the session, many senior lawmakers have decided to participate in the proceedings, cutting their political activity. On the first day of the delayed session, consisting of 359 members, around 200 were present in the Lok Sabha chamber and a little over 30 were seated in the visitor's gallery above the main chamber. The monsoon season started in the shadow of Corona will last till October 1. During this period, Kovid-19 guidelines are strictly followed. Under this, face masks and social distancing have been made mandatory. At the same time, poly-carbon glass has been installed on every seat in the house.
Very few members were seated in seats in the Rajya Sabha chamber on a huge TV screen in the Lok Sabha chamber, other places where MPs of the lower house have been accommodated keeping in mind the physical distance norms. Usually 6 members were planned to seat only 3 people at the place.
Let us know that from the start of the COVID-19 epidemic in the country till the start of the monsoon session, about two dozen MPs including seven Union Ministers and both the Houses have been infected with the Corona virus so far. Even in the Lok Sabha, Tamil Nadu MP H Vasanthakumar has died from Corona. Apart from this, many legislators in the country have died due to this terrible virus.
Also read in Hindi: मॉनसून सत्र के पहले दिन हुए टेस्ट में, 25 सांसद कोरोना पॉजिटिव