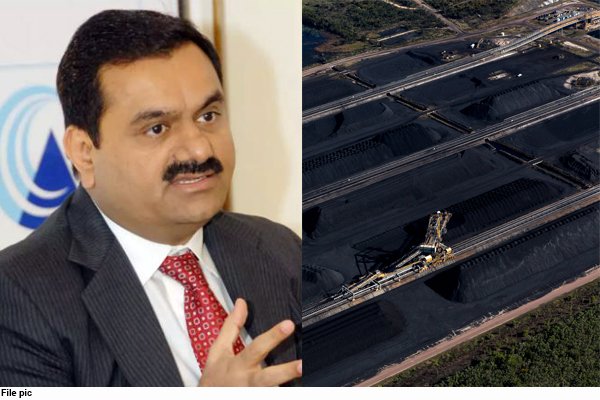 New Delhi: Two teens in Australia have demanded that the government there revoke the environmental permissions granted to the Adani Group for carving at the Carmichael coal mine. These youth claim that new evidence suggests that the Great Barrier Reef, a World Heritage, is also threatened by Adani's coal mine emissions.
Lawyers for Environmental Justice Australia, lobbying for 17-year-old Brooklyn O'Hern from Townsville and 19-year-old Claire Galvin from Cairns, said three independent expert reports provide sufficient new evidence based on which the Minister of the Environment, Susanne Lay, is unmindful. By using her powers, she can cancel the environmental approvals given to Adani.
In this context, Brooklyn O'Hern and Claire Galvin stated, "Ever since the Adani mine was approved, we have been watching the Great Barrier Reef suffer from coral bleaching events of several major metamorphoses due to climate change. We know that if Adani's huge Carmichael coal mine goes ahead, it will lock in decades of carbon emissions and damage our magnificent reef. "
Through their attorneys, these young women have obtained evidence from climatologists and economists suggesting that the proposed mine will increase global greenhouse gas emissions and have a significant negative impact on the Great Barrier Reef. Its World Heritage status may also be at risk.
An expert report by climate scientist Bill Harr, director, climate analytics and assistant professor, Murdoch University, estimates heavy damage to the Great Barrier Reef as a result of the emissions from Adani's Carmichael coal mine and Hyde Park and China Stone coal mines.
The report found that:
• The Carmichael Coal Mine and Rail Infrastructure Project can emit 60 million tons of CO2 per year for 60 years, destroying or damaging 10,230 square kilometres of reef – more than 13 times the area of ​​New York City.
• In 2020, the Great Barrier Reef recorded the most extensive coral bleaching and, for the first time, severe bleaching affected all three areas of the Great Barrier Reef.
• Global warming near 1°C above pre-industrial (1850–1900) to date has already caused great damage to the Great Barrier Reef and negatively affected its outstanding universal value.
• Global warming of 1.5°C will cause serious damage to the Outstanding Universal Value of the Great Barrier Reef at least and global warming of 2°C will likely destroy it.
"Our north Queensland communities depend on a healthy reef to survive. We are deeply concerned about the devastating effects of climate change on the reef, communities whose occupation and employment depend on it, and for generations to come who may never get the chance to enjoy a healthy reef," the youth said.
"Our friends work in tourism and in dive boats. The effects of burning coal from all three mines will have a huge impact on the tourism and hospitality industries. If this mine goes ahead, trusted communities like Cairns will continue to struggle to overcome coral bleaching, especially with the additional effects of the Coronavirus epidemic," they submitted.
The two youth further stated, "It is the federal government's obligation to protect our magnificent Great Barrier Reef for generations to come under Australia's national environmental law."
Also read in Hindi: अडानी की बढ़ी मुश्किलें, ऑस्ट्रेलिया में विवादास्पद कोयला खदान की मंजूरी हो सकती है रद्द