21/09/2021
Akhara Parishad chief Mahant Narendra Giri found dead, suicide note recovered
Police said a five-page suicide note was also recovered in which he blamed one of his disciples for his death.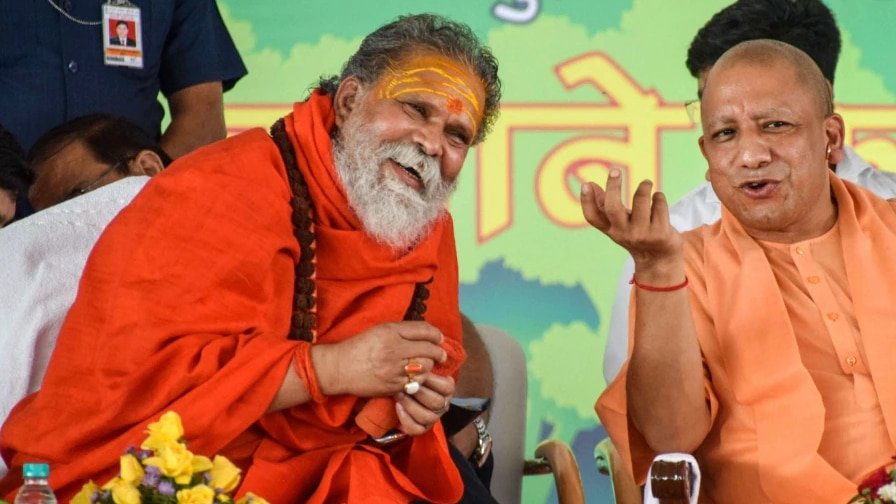 Mahant Narendra Giri, president of Akhil Bharatiya Akhara Parishad, was found dead on Monday. Giri's body was found at Baghambari Math in Prayagraj, Uttar Pradesh. According to initial reports, he was found hanging. Uttar Pradesh Chief Minister Yogi Adityanath will visit Prayagraj today (Tuesday) and pay tribute to the Mahant.
Police said a five-page suicide note has also been recovered in which he has held one of his disciples, Anand Giri, responsible for his death.
Police said that Anand Giri, a disciple of Narendra Giri, accused of killing Mahant, has been taken into custody from Haridwar.
According to Inspector General of Police KP Singh, the body of Mahant Giri was found hanging from the ceiling by his disciples. The IGP said that the police got a call from Muth at 5.30 pm that Giri had hanged himself. An purported suicide note was also found from the place in which the seer had written that he was mentally disturbed and was ending his life. Police said that he had also assigned various responsibilities to his disciples in the note.
अखाड़ा परिषद के अध्यक्ष श्री नरेंद्र गिरि जी का देहावसान अत्यंत दुखद है। आध्यात्मिक परंपराओं के प्रति समर्पित रहते हुए उन्होंने संत समाज की अनेक धाराओं को एक साथ जोड़ने में बड़ी भूमिका निभाई। प्रभु उन्हें अपने श्री चरणों में स्थान दें। ॐ शांति!!

— Narendra Modi (@narendramodi) September 20, 2021
Addressing the media, Singh said, "Preliminary investigation suggests that it is suicide. Mahant has written a very detailed suicide note in which he has also listed his items which are to be given to the concerned people…"
Police have also detained Aadya Tiwari and her son Sandeep Tiwari, the chief priest of Hanuman temple in Prayagraj, as their names are also mentioned in the suicide note of Mahant Narendra Giri.
Giri was admitted to the All India Institute of Medical Sciences, Rishikesh in April this year after he was found COVID positive. He later recovered and was later discharged from the hospital.
Firstly, former Uttar Pradesh Chief Minister Akhilesh Yadav condoled his demise. Samajwadi Party leader Akhilesh expressed his condolence by tweeting, "Death of Akhil Bharatiya Akhara Parishad President Pujya Narendra Giri ji, irreparable loss! May God place the virtuous at his feet and give strength to his followers to bear this loss. Heartfelt tribute." Narendra Giri passed away.
Prime Minister Narendra Modi has also condoled the death of Mahant. He said, "The death of Shri Narendra Giri ji, President of Akhara Parishad is extremely sad. While devoted to spiritual traditions, he played a big role in connecting many streams of Sant Samaj together. May God keep him at your feet. Peace!! "
In a new development in the death of Mahant Narendra Giri, a video angle is being investigated. Sources say that Giri had recorded a video shortly before his death. However, fresh sources also claim that Giri was indeed upset over a video and the police is probing the matter. Prayagraj Police is making a detailed list of all the people Giri spoke to before his death and those who had come to meet him.
So far, Anand Giri, a disciple of Akhil Bharatiya Akhara Parishad (ABAP) president Mahant Narendra Giri, and two others have been detained in connection with his death.
An FIR has also been registered against Anand Giri and others at Georgetown police station in Prayagraj. According to the copy of the FIR, Anand has been booked under section 306 (abetment to suicide) of the IPC.
Meanwhile, a letter petition has been filed in the Allahabad High Court seeking a CBI probe into the mysterious death of Mahant Narendra Giri, chief of Akhil Bharatiya Akhara Parishad (ABAP). The petition has been filed by advocate Sunil Choudhary.
The petitioner said that the circumstances under which Mahant was found dead on Monday evening are highly suspicious and mysterious. Some members of the Akhara have raised doubts over the five-page suicide letter purportedly written by Mahant Narendra Giri.