14/03/2021
Bengal Poll: 'Don't vote for BJP' Tikait says in Nandigram
Kolkata: Farmers held a mahapanchayat in the city and Nandigram on Saturday, from where CM Mamata Banerjee is in the fray. Farmer leader Rakesh Tikait also attended the mahapanchayat. He asked the supporters of Kisan Mahapanchayat from the forum not to vote for the BJP.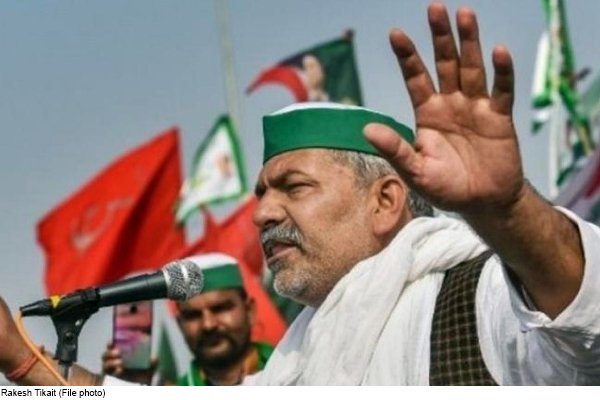 He asked people to defeat the BJP in the upcoming assembly elections in West Bengal on Saturday. Tikait also accused the BJP of injuring CM Mamta Banerjee's leg.
Rakesh Tikait of the Bharatiya Kisan Union (BKU), Balbir Singh Rajewal, Gurnam Singh Chaduni and Yudhveer Singh were among the leaders of the Samyukta Kisan Morcha who attended the Kisan Mahapanchayat in Kolkata on Saturday. Farmer leaders are expected to address similar public meetings in Singur and Asansol on Sunday.
The Samyukta Kisan Morcha, an organization of more than 40 farmer unions, has planned public meetings across the country to campaign against the BJP. Activist Medha Patkar also shared the stage with farmer leaders and told supporters that if they win the Nandigram seat, the BJP will 'distribute' their land. Speaking at Ramlila Maidan, Medha Patkar said that the BJP is receiving large amounts of money in the form of donations from corporates in the form of electoral bonds.
Addressing the Kisan Mahapanchayat in Kolkata, Rakesh Tikait urged his supporters to vote for the candidates who can defeat the BJP. He said, this will put more pressure on the central government to repeal the three agrarian reform laws.
Rakesh Tikait, without naming the BJP's Suvendu Adhikari, criticized the political leaders who change the party before the elections. Tikait told reporters, "Don't listen to me if people are getting the crop at the right price on MSP." Do not vote if they are selling crops for Rs 1,850. There should be a law on MSP. Crops should also be sold to the farmers here on MSP. "
Activist Medha Patkar started her speech with 'Amer Gram Nandigram' (Our village is Nandigram). As the crowd chanted with him, Patkar said that Nandigram was the land of struggle. "Ask the farmers of Gujarat how to trick potato farmers for Pepsi and leave them later," he said.
Taking a dig at the BJP leaders, he said, "Whatever Suvendu Adhikari or Kailash Vijayvargiya tells you, ask them what Ambani and Adani earn."
(With agency inputs)