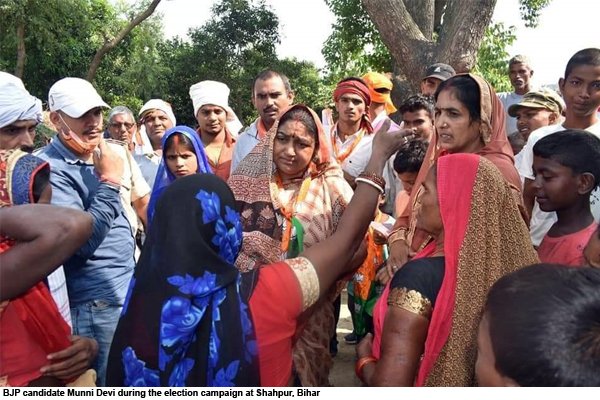 Written by Rakesh Ranjan
Patna: In politics, expecting morality seems unrealistic and one-sided. The public was slowly beginning to accept that what the politicians speak is simply an election, nothing else. Now see that in the last assembly election, all the leaders in Shahpur spoke big things, like the Ganges will help in development, etc. Something of the same thing happened. Local residents of Shahpur said that the MLA had shed the Ganges, but consumed liquor, which ruined many houses.
Local residents of Shahpur say that the MLA has developed, but not the poor but himself. He only filled his pockets in the name of development in the last 5 years. Now the same people who voted for the RJD, they are now getting a chance to rectify this mistake in 2020. All these people are joining Munni Devi in ​​large numbers to rectify their mistake.
On the other hand, there is Munni Devi, who won the Shahpur seat in 2005 and 2010 and went to the House and laid special emphasis on solving the problems of all panchayats in her assembly and carved out her own identity from the people's representatives. People consider him a leader of Shahpur and not of Patna. Meeting people became their natural habit. Munni Devi has always lived among the people, listened to their problems and raised her voice from the local administration to the House to resolve it. Munni Devi has emerged as the first choice of the people of Shahpur.
Munni Devi's behavior is her personality. He is definitely a Brahmin by caste but he never let anyone realize this. She meets people as if she is a member of their family. She does politics above religion and caste and constantly tries to establish this culture among others.
Let us know that a large number of illegal and improper money expenditure and corruption prevails in elections, it is well known. In Shahpur too, candidates of other parties are engaged in adopting such tactics. But Munni Devi is the only candidate who is running door to door campaign on the basis of morality. Go to people's homes and meet them, listen to their problems, make a list of it. So that these problems can be solved by going to the House. This is also a sign of a healthy democracy.
Also read in Hindi: Bihar Election: शाहपुर से मुन्नी देवी बनी जनता की पहली पसंद