New Delhi: In Bihar, all parties are running tightly campaigning. Meanwhile, a bad news is coming for the BJP. BJP's Bihar election incharge Devendra Fadnavis has been found to be Corona positive. He has confirmed this by sharing a post on his Twitter handle. Even before Fadnavis, many BJP leaders, including Deputy CM Sushil Modi, have fallen prey to Corona. As a precautionary many leaders are also in quarantine. This is going to be effect BJP in Bihar elections strategy.
After his report Corona positive he tweeted, "I have been working every single day since the lockdown, but now it seems God wants me to stop for a while and take a vacation!" My report is positive and I am currently in quarantine. I am taking all medicines and treatments as per the advice of doctors. "In another tweet, he said," Those who have come in contact with me are advised to get corona test done. Everyone take care! "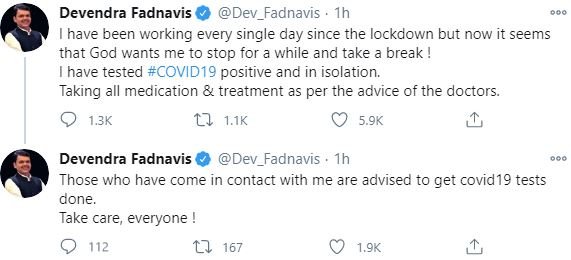 The voting process for the Bihar assembly elections is scheduled to begin in a few days. Political enthusiasts are at the peak of the election. On the previous day, PM Modi and Rahul Gandhi have also tried to create an atmosphere in their favor by holding rallies. On the other hand, there is a war of words between the leaders of the Grand Alliance and the NDA. Even today, there are rallies at many places in Bihar.
Also read in Hindi: Bihar Election: चुनाव प्रभारी देवेंद्र फडणवीस कोरोना पॉजिटिव, कई रैलियों में थे शामिल