25/09/2020
Bihar Election: Election Commission announced, voting to be held in three phases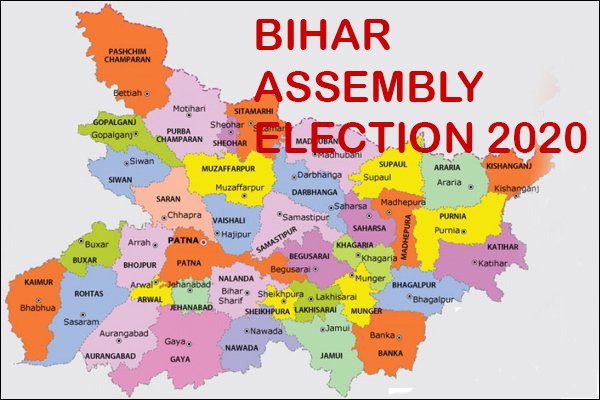 New Delhi: Bihar Legislative Assembly elections 2020 will be held in 3 phases. The election will be held in three phases on 28 October, 3 and 7 November. The counting of votes and results will be announced on 10 November. The Election Commission said that this year, due to the Kovid-19 epidemic, polling will be held in fewer stages to minimize the movement of security personnel. With this announcement, the model code of conduct comes into force in the state. The 243-member assembly of Bihar is scheduled to end on October 29, 2020.
In the first phase of voting, elections will be held in 71 assembly constituencies in 16 districts. In the second phase, polling will be held in 94 constituencies of 17 districts and in the third and final phase, voting will take place in 78 constituencies in 15 districts.
Chief Election Commissioner Sunil Arora while addressing the press in New Delhi said, "There is a large-scale deployment of security forces in elections. We have tried to reduce their movement over long distances. This is due to the convenience of the Kovid-19 as well. We have reduced the number of steps to 3 due to this. "
In the midst of the epidemic, several measures have been taken for campaigning and voting to ensure the safety of leaders and voters. The voting has been extended by one hour from 7 am to 6 pm. The last hours will be reserved for Kovid-19 and Quarantine residents.
Many countries have held elections amid the epidemic. However, CEC Arora also said that Bihar is likely to have the largest election during the epidemic election. The state has 72.9 million voters.
Special features of the press conference:
Not more than two vehicles can accompany the candidate during nomination.
There will be only 1,000 voters at a booth.
Corona patients will be able to vote in the last hour of voting.
No more than five people will go and preach at someone's home together.
Only 5 people, including the assembly candidate, will join the door to door campaign.
No more than 5 people will be able to preach at home.
Voting will be held from 7 am to 6 pm.
The voting time has been extended by one hour.
Nomination can also be done online.
Preparations for elections in the Corona era have been made under the new security standards.
7 lakh hand sanitizers, 6 lakh PPE kits, 7,6 lakh bedsheets, 23 lakh hand globs have been arranged.
Elections will be held under new safety standards due to Kovid.
The number of voters will be reduced at the polling booth. There will be 1 thousand voters at one booth.
Election is the democratic right of citizens. Therefore, it is necessary to hold elections.
Also read in Hindi: Bihar Election: निवार्चन आयोग ने की घोषणा, तीन चरणों में होगा मतदान, जाने खास बातें…