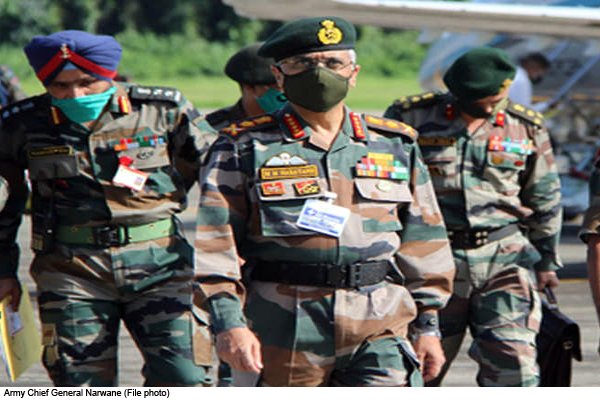 New Delhi: China is not deterring its tactics under the guise of negotiations. He is not allowing tension on the border to come down due to his nefarious activities. Meanwhile, Chief of Army Staff Manoj Mukund Narwane arrived in Ladakh on Thursday in view of tense situation in SW in Ladakh. The army chief is on a 2-day tour. He has suddenly arrived to take stock of security preparations.
Army Chief Narwane's visit comes at a time when the Indian Army has defeated China several times in the last one week. China's infiltration attempt in Pangong failed. Important posts like Black Top have been controlled by the Indian Army. In addition, in 1962, Rekin La and Raging La were captured by China, which India again controlled. Explain that the Special Unit of the Indian Army set up posts in front of the Chinese Army by reaching the 'Dominating Height' (the highest place) at Finger 4 on the northern side of Pangong Tso in Ladakh, which was established after the Chinese army infiltrated in April.
On the banks of Ladakh's Pangong Tso Lake, for the first time, China has started losing on many fronts before fighting the war. The southern part of Pangong Lake in Ladakh is now completely under the control of India. India has now established its control over many mountain peaks here. China would never have thought that India would take such an aggressive stand against them and would attack its expansionist policy so strongly.
On the night of 30 and 31 August, the Chinese army tried to move again, but in response, the Indian army took control of many more nearby hills. This action of the Indian Army has been done between the patrolling point i.e., 27 to 31. All these patrolling points are now with the Indian Army. All these areas are where China occupied in 1962.
Indian troops thereafter controlled the areas of Rekin La and Rejang La where the Indian Army had never sent troops since 1962. There was a fierce battle in both these places in the year 1962. Control of Indian troops has also been established on 'Magar Hill' and 'Gurung Hill' near Spangur Gap near Pangong Lake. Thus, at this time all the hills from the south bank of Pengong to Rejang La are under the control of Indian troops.
India has established its stronghold in this region. After regaining this area, India has consolidated its position from the southern Pangong Sho Lake to Rejang La. The forces of India and China are standing at a distance of a few hundred meters in this area and tension is at a peak.