New Delhi: The People's Liberation Army (PLA) of China has returned 5 youths missing near the border from Arunachal Pradesh to the Indian Army on Saturday. According to news agency ANI, the army has received these youths in Kibitu today after completing all the formalities. All of these will be quarantined for 14 days under the Kovid-19 protocol and will then be handed over to family members. The Tejpur Defense PRO gave this information.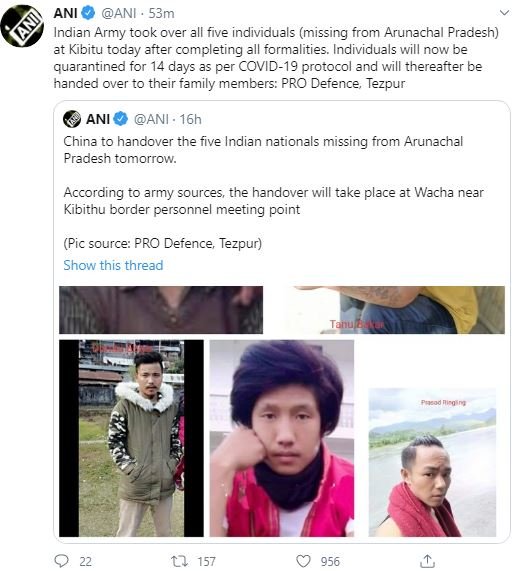 Let me tell you that at first China had categorically denied that they did not have any information about those youths, but China had to bow before India's diplomatic pressures. Later, the PLA said that on 4 September, five youths who had gone missing from the India-China border in Upper Subansiri district had found them across the border.
To this, Union Minister Kiran Rijiju tweeted on Friday, "China's PLA has confirmed to the Indian Army that it will hand over the youth of Arunachal Pradesh to us. He can be assigned to a designated place at any time on 12 September. "
Explain that 5 persons of Tagin community of Upper Subansiri district of Arunachal were kidnapped by the Chinese army from the forest near Nacho. These five people went there for hunting. Relatives of the abducted persons received this information on Friday. The villagers who were allegedly kidnapped are Toch Singkam, Prasad Ringling, Dongtu Ibia, Tanu Baker and Nargu Diri.
The abducted people along with others also went on the hunt. These people survived the capture of Chinese soldiers and managed to escape from the scene. He reached the village and informed the other villagers about the whole incident. People gave this information to the Indian Army. Then the army sent a message from the PLA to Hotline and the return of these 5 youths was possible.
Also read in Hindi: भारत के दबाव के आगे झुका चीन, अरुणाचल से लापता 5 युवकों को वापस लौटाया