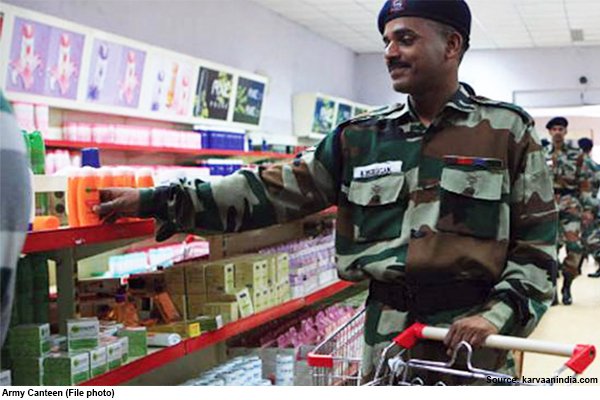 New Delhi: The central government has taken a big decision regarding import from abroad in the army canteen. The government has prohibited the sale of goods imported from abroad. Please tell that there are about 4 thousand military canteen in our country. Here the Indian Army and retired personnel get goods at cheap prices. Its biggest impact will be on foreign liquor and electronic goods found here. Please tell that Army officers, jawans and ex-servicemen are provided with goods from the canteen at a discounted rate.
According to information received from sources, on October 19, the government issued an order prohibiting the sale of foreign goods in the army canteen. The order said that the issue has been negotiated with the Army, Navy and Air Force between May and July. It was decided to stop the sale of foreign goods from the army canteen as part of Prime Minister Narendra Modi's campaign aimed at promoting indigenous goods.
Although the order does not mention any specific product, it is understood that the sale of foreign liquor may be banned. According to the Institute for Defense Studies and Analysis, on an average, imported goods account for 6 to 7 percent of the total goods sold from the army canteen.
Let us tell you that the country is currently facing a Corona crisis. Keeping this in mind, Prime Minister Narendra Modi had emphasized on the sale of goods made in the country under self-reliant India to bring the country back on track.
At present, information has not been given about the goods whose imports have been banned. These canteens often have a high demand for foreign liquor and electronic goods.
Explain that about 7 percent of the products sold in the canteen are imported. These include items imported from China such as diapers, vacuum cleaners, handbags, laptops, etc. These canteens sell goods worth about Rs 200 crore annually. Therefore, foreign investors investing in India with this step can definitely be a setback. On the other hand, it is also a big shock for the soldiers who used to take foreign goods from the army canteen. (With agency input)
Also read in Hindi: आर्मी कैंटीन में नहीं बिकेगी विदेशी शराब, 4 हजार इम्पोर्टेड आइटम पर लगा बैन