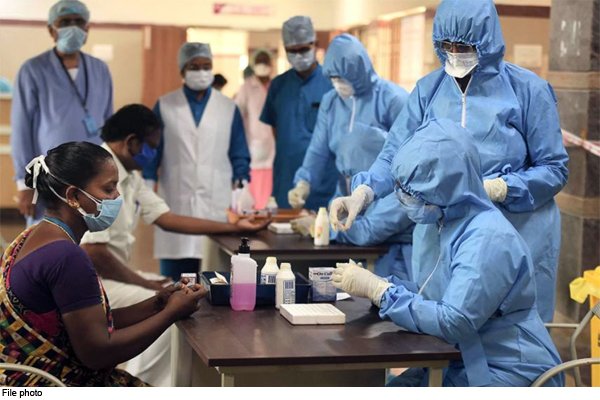 New Delhi: Corona virus infection has started spreading all over the country once again. In the wake of the corona virus havoc, governments in Gujarat, Haryana, Uttarakhand, Mizoram and Himachal Pradesh including Delhi, the capital of the country, had to decide to close the schools again. However, when it comes to the whole country, there has been a decline in new cases of corona. However, the situation has become critical in some states. In the month of November, corona cases have started increasing rather than decreasing. The situation has become appalling in Delhi, where 134 people died of this deadly virus in a single day. In view of this, the Central and Delhi governments have come into action.
In such a situation, the possibility of lockdown is being raised nationwide but not locally. Lockdown can implement completely within the containment zone but within a very limited area. Meanwhile, full curfew has been imposed in Ahmedabad, Gujarat from Friday night to Monday morning. There is a possibility of lockdown once again in Madhya Pradesh. Despite being exempted from the Center, the Maharashtra government extended the lockdown till 30 November.
Ahmedabad will take 57 hours of curfew
The area falling within the Ahmedabad Municipal Corporation limits of Gujarat will remain in a 57-hour curfew from Friday night. There has been a big jump in the cases of Kovid-19 after Diwali. According to officials, the curfew will begin at 9 pm on Friday (November 20), which will continue till six in the morning on Monday (23). Additional Chief Secretary Rajiv Kumar Gupta told that only milk and drug shops will remain open during this vigorous curfew. Gupta has been appointed as Special Officer by the Government of Gujarat. Their job is to monitor the corona virus infection related functioning of the Ahmedabad municipality. The Gujarat government has also stopped its decision to open secondary schools and colleges in the state from 23 November.
Heavy penalty for not wearing mask in Delhi
Taking strict action on the corona virus, the Kejriwal government has announced a fine of Rs 2000 on those who do not wear masks in public places. Till now, there was a provision of a fine of Rs 500 for not wearing a mask. Kejriwal announced this after an all-party meeting. There is a third wave of Kovid in Delhi. Apart from this, the Delhi government has also sought permission from the Center for lockdown in local markets. However, Kejriwal made it clear that there is no intention of lockdown in the whole of Delhi. The limit of guests within weddings in Delhi has also been reduced from 200 to 500.
School closed again
Under the unlock, the Central Government had earlier allowed the opening of all types of schools from class 9 to 12, later. Colleges and universities are also allowed classes. In such a situation, schools were opened in some states and union territories, but with precautions related to corona. Despite this, due to increasing Corona cases, many states had to close schools again. Gujarat has postponed the decision to open a school. Schools in Mizoram, Haryana, Himachal Pradesh, Uttarakhand and Haryana have been closed again.
Also read in Hindi: Corona Pandemic: देश के कई राज्यों में स्थिति खराब, फिर से लग सकता है लॉकडाउन?