New Delhi: India has achieved a very significant achievement in its fight against the global pandemic Covid-19 today with a consistent, active, and strong strategy based on the 'whole government and whole society' approach. Today the number of new cases daily is very less. Less than 16,500 new cases have been reported at the national level during the last 24 hours after the last 187 days. Today this number is 16,432. The number of daily new cases as of 25 June 2020 was 16,922.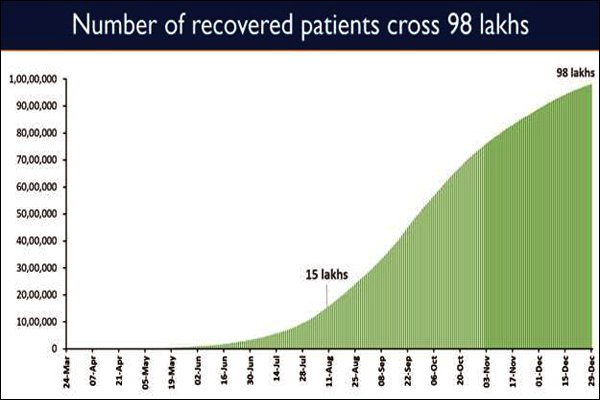 The number of active cases in the country has come down to 2,68,581 today. The share of active cases in total positive cases is further reduced to 2.63 percent.
There has been a drop of 8,720 cases in total active cases during the last 24 hours.
The number of people recovering from corona in India is about 10 million due to the high number of patients recovering and the decline in new cases daily. The total number of cured cases has increased to more than 98 lakhs (98,07,569) today. Due to this the recovery rate is 95.92 percent. The gap between cured cases and active cases is steadily increasing and today the gap has increased to 95,38,988.
24,900 patients have recovered in the last 24 hours.
77.66 percent of corrected new cases are related to 10 states / UTs.
The maximum number of 4,501 new patients in a single day has been cured in Maharashtra. After this, 4,172 new patients have been cured in Kerala while 1,901 patients have been cured during the last 24 hours in Chhattisgarh.
78.16 percent of new cases are from 10 states/union territories.
There have been 3,047 daily new cases reported in Kerala in the last 24 hours while 2,498 and 1,188 new cases have been detected in Maharashtra and Chhattisgarh yesterday.
In the last 24 hours, 252 cases of death have been detected. Out of this, 77.38 percent of the cases are related to 10 states/union territories.
Maharashtra accounted for 19.84 percent of the new deaths. 50 patients have died in the state. New cases of 27 and 26 deaths have been registered in West Bengal and Chhattisgarh respectively.