A Delhi trial court on Wednesday 17 February acquitted journalist Priya Ramani in a criminal defamation case brought against her by former Union Minister MJ Akbar on #MeToo sexual harassment charges leveled against her.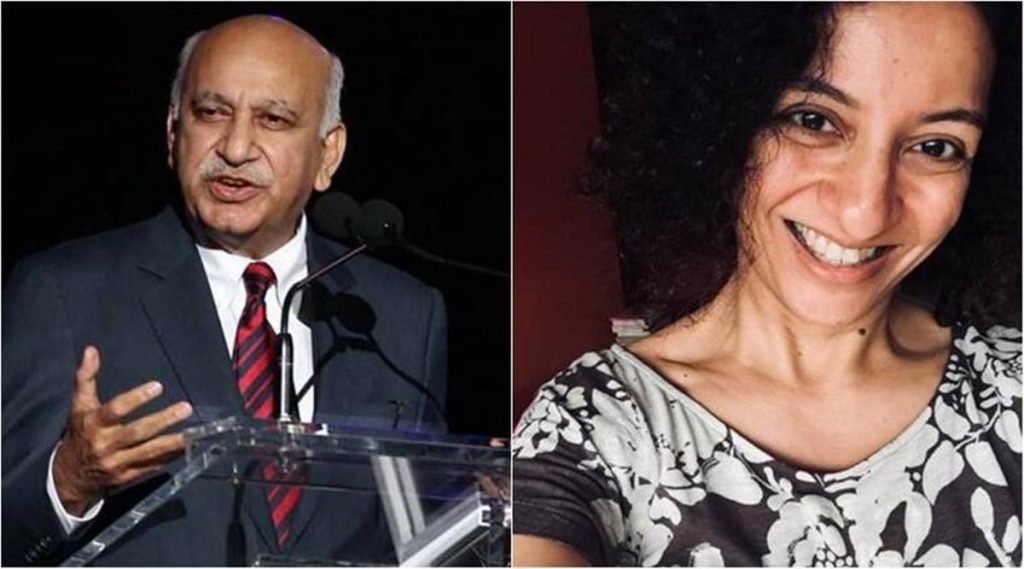 The Rouse Avenue court considered that the content of Ramani's Vogue article is defamatory, and rejected Ramani's claim that only a few paragraphs and not the entire article were related to Akbar.
However, the court also noted systematic abuse at the workplace, adding: "Women cannot be punished for increasing sexual abuse cases by complaints claiming profanity."
Earlier, the court was ready to pronounce its verdict on 10 February, but Judge Ravindra Kumar Pandey said that he needed more time to pronounce the verdict, as he had received late written submissions for the case.
Court documents show that Ramani's lawyers submitted their written arguments on 3 February, while Akbar's lawyers submitted them on 6 February – a day after the deadline, and a weekend.
The trial went on in Rose Avenue Court for nearly two years, and the discourse-change is closely linked to the legacy of the #MeToo movement.
Akbar claimed that an article by Ramani written for Vogue in 2017 amid the #MeToo movement and a tweet made about him in 2018 damaged his "reputation".
Ramani countered these claims and called the truth her defense. A person found guilty of criminal defamation may face a maximum sentence of two years or a fine or both. Ramani has been asked to sign a bail bond of Rs 5,000.
Judge Pandey stated that "the Indian Constitution allows a woman to put her complaint on any stage, and at any time, even for decades."
"It cannot be ignored that most sexual harassment in closed doors is considered," he said. Sometimes the victims themselves are unaware of their beatings. The court took cognizance of the lack of mechanism for sexual harassment at the workplace at the time specified by Ram and Wahab. "
The court further acknowledged that Akbar was "not a man of stellar reputation" and cited the Ramayana and the Ramcharitmanas to highlight the importance given to the dignity of woman in our culture.
Speaking about the participation of women in the workforce, the court said: "The glass ceiling will not prevent Indian women from their advancement in society if they are given equal opportunities."
Finally, the court acquitted Ramani, stating that the defamation case brought by Akbar has not been proved.
Senior advocate Geeta Luthra, appearing for Akbar, had argued that Akbar had a "long and illustrious career" and displayed documents before the court to prove his "impeccable reputation".
"Akbar's stellar reputation was tarnished and damaged. He did nothing, but the news continued to spread calling him a sexual predator. "- Geeta Luthra, Senior Advocate, MJ Akbar represented
She also included statements by Akbar's character witnesses Veenu Sandal, Jyothika Basu and Tapan Chowki.
Akbar's legal team has claimed that Ramani's article def per se is defamatory as it has no basis. This claim is based on an interpretation of Ramani's Vogue article that looks at the entire piece referring to Akbar, not just the beginning – it would undoubtedly be defamatory as the rest of the article contains references to the actions of others accused in the #MeToo movement , Including Harvey Weinstein.
What was Priya Ramani's defense? The accusation is true. You cannot see profanity in isolation and close your eyes to the rest of the world and pretend nothing happens. Satya is painful, Satya is bitter. – Rebecca John, Senior Advocate, representing Priya. Ramani
During the hearing, senior advocate Rebecca John, appearing for Ramani, noted that Ramani pleaded in his defense as "truth", "in good faith, in the public interest, and for the good of the public".
Reputation, reputation good reputation 'and ar stellar reputation' is central to his (MJ Akbar's) case … I have contested it is all false – representing Rebecca John, Senior Advocate, Priya Ramani
John has argued that a number of allegations against Akbar, including those made public before Ramani's tweet on 8 October 2018, and known facts about his extra-marital affairs with junior colleagues, have damaged his reputation. Could not claim Because of Ramani's statements.