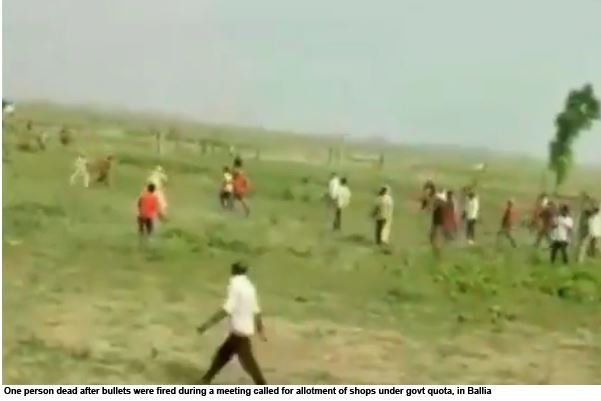 Lucknow: Crimes in Uttar Pradesh have not stopped. There are high levels of miscreants in the state. Recently during an open meeting in Ballia, a young man was shot dead in front of the police. Taking this matter into consideration, the Yogi government has taken major action. SDM, CO, SO and all policemen present at the time of the incident have been suspended with immediate effect. Instructions have also been given for criminal action to prove the role of officers in the incident. Strict measures have also been asked to be taken against the accused leader.
ACS Home Avnish Awasthi told news agency ANI, "Taking cognizance of the Ballia incident, the CM has directed to suspend the SDMs, COs and policemen present on the spot and take strict action against the accused. The role of the officers will be investigated and if found responsible, criminal action will be taken.
Explain that an open meeting was organized on Thursday afternoon at Panchayat Bhawan for allocation of 2 quota shops of Gram Sabha Durjanpur and Hanumanganj in Ballia. SDM Baria Suresh Pal, CO Baria Chandrakesh Singh, BDO Baria Gajendra Pratap Singh as well as the police force of Revathi police station were present. 4 self-help groups applied for shops. It was decided to vote between the 2 groups if there is no consensus for the shop of Durjanpur. Officials said that voting will be done by those who have Aadhaar or any other identity card.
Although one group had an identity card, the other group had no ID. A dispute between the two sides started over this. Seeing the worsening of the situation, the officials left the postponement of the meeting. The Revathi police present on the spot engaged in persuading both sides and calm the dispute.
A group started shouting slogans against the officials accusing them of bias. During this time, people from other groups became agitated and clashed among them. The matter increased so much that bricks and stones started running along with sticks. Meanwhile, firing started on behalf of a group. In the same firing, 46-year-old Jayaprakash alias Gama Pal of Durjanpur was shot four times. There was chaos in the shooting. People rushed to CHC Sonbarsa with Jayaprakash, where doctors declared him dead. Seeing the matter escalating, the police force of several police stations reached the spot and somehow the case was handled. It is said that the accused who shot is close to an MLA.
Also read in Hindi: बलिया: सरेआम हत्या पर योगी सरकार की बड़ी कार्रवाई, मौके पर मौजूद सभी अधिकारी सस्पेंड