14/03/2021
Designing new street vending vehicles to meet Covid-19 challenges
New Delhi: The Ministry of Commerce and Industry, in collaboration with the National Institute of Design, Ahmedabad, organised a competition to design a new and cost-effective model for the design of Covid 19 street vending trains. Students of NID in Ahmedabad, Andhra Pradesh, Assam, Haryana and Madhya Pradesh participated in the event from 22.12.2020 to 05.02.2021.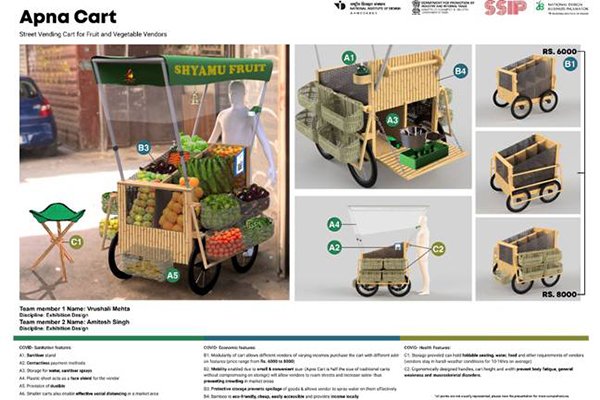 The National Institute of Design, Ahmedabad, coordinating with other NIDs, organized a design hackathon to design new vehicles to meet the challenges faced by Covid 19 recently. It is also proposed to offer these models on a large scale to street vendors after selection at the event.
The competition aims to create a new and effective solution for a modern vending cart to deal with the recent challenges emerging due to COVID-19. The car should be offering better business prospects in the post-Covid-19 world. The design should be tailored to the themes and opportunities associated with street vendors so that they can make good sales with better efficiency and pride. Through this, the needs of all sections of society should be met.
Street vendors usually use traditional vending carts, but in the post-Covid-19 era, the requirements of the vehicle include features such as packaging of goods, their performance, billing, hygiene, foldability, robustness, mobility, dustbin, seat, etc. Also provisions for shade, lighting, power supply etc. have been included. Indian street vendors are going through tough times due to the position of Covid-19.
At present, street vendors are facing challenges such as reduction of customers and demand, travel restrictions, hygiene issues and competition. After Covid-19, street vending has new emerging landscapes. There is also an opportunity for street vendors to reshape their businesses and attract customers to these changes. These street cars can prove to be significantly beneficial in terms of product, storage, traffic and branding approach.