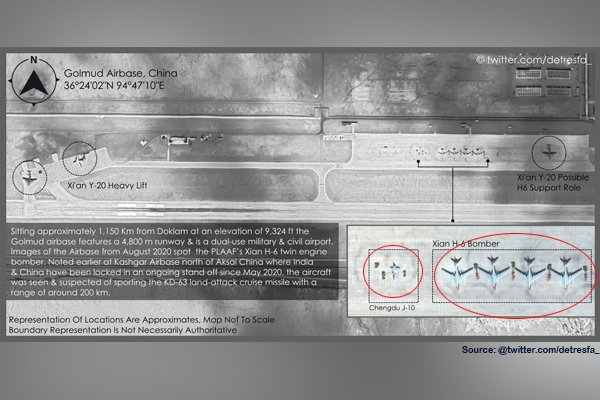 New Delhi: China has increased its deployment of troops since the Indian Army took over the Finger-4 area of ​​Pangong Lake in eastern Ladakh. At the same time, China has deployed its own dangerous fighter plane H-6 nuclear bomber and cruise missiles near Bhutan's Doklam. According to Navbharat's report, China is deploying these destructive weapons at its Golmud airbase. This airbase is only 1150 km from the Indian border.
Let us know that earlier China had deployed this deadly bomber at the Kashgar airbase of Aksai Chin. A KD-63 Land Attack Cruise Missile is also seen with this bomber in a satellite picture released by open source intelligence analyst Detresfa. The firepower of this missile is about 200 km. Apart from this, the Shian Y-20 cargo military aircraft is also seen at the airbase.
The Chinese fighter plane H-6 bomber is designed to target long-range targets. The aircraft is also capable of nuclear attack. China has included this aircraft specifically to target the Guam base of the US. Its previous model had limited missile capability, but has been upgraded and upgraded.
It may be noted that China has increased the activities of the Chinese army near Doklam for the last few days. In 2017, there was a dispute between India and China in Doklam. Chinese troops had to retreat after 73 days of deadlock. According to intelligence agency sources, China has done new construction works near Doklam in June and July. He is doing this construction work in the North Doklam area.
According to the information, China is also building a multi-storey building about 1 kilometer south east of Cinch La. About 13 electric poles have also been seen on the peaks on the west side of Cinch La. According to intelligence sources, it has also been reported that China is also upgrading a walkway from Cinch La to the west side. In the midst of tension on the LAC, India is keeping a close watch on any movement towards China. The Indian Army is vigilant over the entire LAC and deployment has also been increased.
Tapco has been told that China has doubled the number of air bases in its area along the Line of Actual Control in the last three years, forced to retreat after India's tough stand in Doklam in 2017. In addition, the number of air defense positions and heliports to shoot down Indian aircraft and missiles has also been doubled, which is a concern for India.
Also read in Hindi: ड्रेगन की दोहरी चाल, एक तरफ बातचीत तो दूसरी तरफ विनाशकारी हथियारों की तैनाती