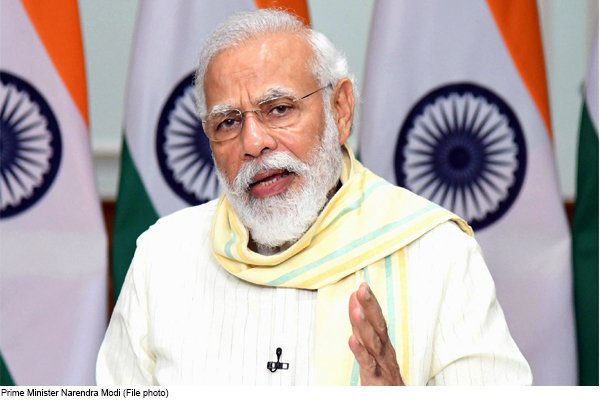 New Delhi: It has been 7 months since India started its fight against the corona virus. The economy of the country has collapsed badly due to the entire business being stalled in these 7 months. It can also take a long time to recover. But, Prime Minister Narendra Modi said that the country's economy is returning to track faster than expected. The recent reformist steps are a signal to the world that New India trusts market forces and that India will remain the most preferred destination for investment across the world.
In his first interview given by Prime Minister Modi after Kovid-19 entered India, he said that the primary task of our government was to fight against this epidemic and to fix the country's economy. Without naming China, he said that after the pandemic, India would be among the leading countries in the manufacturing and supply chain system in the world. India does not believe in benefiting from the losses of other countries, but India will achieve this position through its democracy, population and demand arising.
India on the path of recovery
The Prime Minister expressed satisfaction with the growth of the economy after Corona and said that all the norms of the economy show that India is recovering. See the example of agriculture, foreign investment, manufacturing boom, increase in vehicle sales. More people joining the EPFO ​​is showing that the job market has increased. I think a big boost in investment and infrastructure will be the driving force for growth. Our reformist steps will ensure that India becomes the most important place for investment.
On opposition to farming laws, the PM said that many experts have long advocated these reforms. The point is that the opposition does not want us to be credited with them. On the new relief package, he said that we will see that all the steps which strengthen the economy keep on taking place from time to time. He outrightly criticized the opposition's criticisms on Corona and said, "Look at the number of cases (AAP), while there was a lot of apprehension in March." He emphasized that relief measures have been taken immediately to the most affected people of the population, whereas in earlier major disasters, corruption could not provide timely relief to the poor.
On GST compensation to states, he said that it would be wrong to say that our government is not sensitive to the concerns of the states. When VAT came at the time of UPA, they promised to compensate the loss of revenue of the states, but the promise was not fulfilled. He did not compensate states for losses for five consecutive years.
Also read in Hindi: देश की अर्थव्यवस्था पटरी पर लौट रही, निवेश की पसंदीदा जगह बनेगा भारतः मोदी