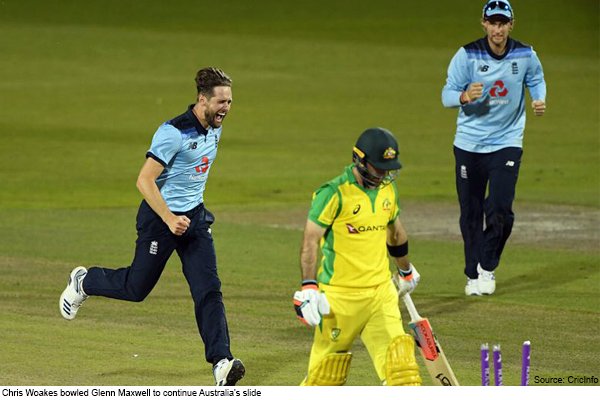 New Delhi: In the second match of Australia and England in the Super League series, it did not rain, but the match was very exciting. In this low scoring match, England scored only 231 runs in 50 overs playing the first. Seeing such short runs, it was believed that Australia would win this match easily, but it did not happen. The English bowlers, on the basis of their tight bowling, named this match for England and equalized 1–1 in the series. Now both are eyeing on the third ODI to win the series, which will be played on this ground on 16 September.
England won the toss and decided to bat first in the second match played on Sunday of the three-match ODI series in Manchester against Australia, which did not prove to be somewhat true. The Australian bowlers did not give the hosts a chance to manage the hosts anywhere in the entire innings and kept the wickets of the England batsmen at intervals. However, Tom Curran (37) and Adil Rashid (Nabad 35) pulled England out of trouble and managed to get their team's score beyond 200.
At one time it seemed that the England team would pile up within 200 runs, their eight wickets had fallen to 149 runs. But after that both these batsmen took England to 231 runs for nine wickets. England scored 231 runs losing 9 wickets in 50 overs. For the Kangaroo team, Adam Jampa took 3 wickets and Mitchell Starc took 2 wickets. Seeing a small target of 232 runs, it seemed that the match would be easy, but the English bowlers put this match in their team's bag on the basis of their tight bowling.
However, David Warner failed once again when the Australian team started chasing a target of 232 runs. However, captain Aaron Finch was dismissed for 73 from 105 balls, but he did not get much help from the other end. Finch and Marnus Labushane had a partnership for the fourth wicket, but the partnership was very slow. Finch also partnered with Alex Carrie, but the team piled on 207 in 48.4 overs. In this way, England won the match by 24 runs and made the series 1-1.
Also read in Hindi: इंग्लैंड ने आस्ट्रेलिया कर उम्मीदों पर फेरा पानी, अब आखिरी मैच होगा निर्णायक