26/01/2021
Farmer Protest Live: Barricades broken by tractors, protesters entered Delhi, clash with police
New Delhi: Where the entire nation is celebrating the 72nd Republic Day today. At the same time, there was a clash between the protesting farmers and the police at different places in the capital. Protesting farmer leaders said yesterday that the tractor march would be taken out peacefully.
However, many batches of farmers have broken barricades from the tractors to the ITO in the capital. At the same time, on NH-24, the farmers are moving towards the Akshardham temple by breaking the barricade on the way. On the way, protesters also created a ruckus. The farmers also spared the police and broke the glass of their vehicles.
According to the Navbharat, along with the protesting farmers on the Karnal bypass, the mounted Nihang also broke down at the police barricade. The farmers and Nihangs together broke the police barricade and created a lot of uproars. At the same time, the police released tear gas shells to disperse the crowd.
#WATCH Protesters break barricade, attack police personnel and vandalise police vehicle at ITO in central Delhi pic.twitter.com/1ARRUX6I8E

— ANI (@ANI) January 26, 2021
In Nangloi, the policemen themselves sat on the ground to stop the protesting farmers. From here, instead of going on the route fixed towards Najafgarh, farmers' batches are heading towards Peeragadhi on Rohtak Road. Bahadurgarh to Piragadhi metro service was stopped with immediate effect. All the stations on this route, including Piragadhi, have been closed. The protesters boarded a police vehicle at Makarba Chowk in the capital. After this, they removed the police barricades. Demonstrative farmers took a fierce look at the ITO in Delhi and attacked the policemen themselves.
#WATCH: A Delhi Police personnel rescued by protesters as one section of protesters attempted to assault him at ITO in central Delhi. #FarmLaws pic.twitter.com/uigSLyVAGy

— ANI (@ANI) January 26, 2021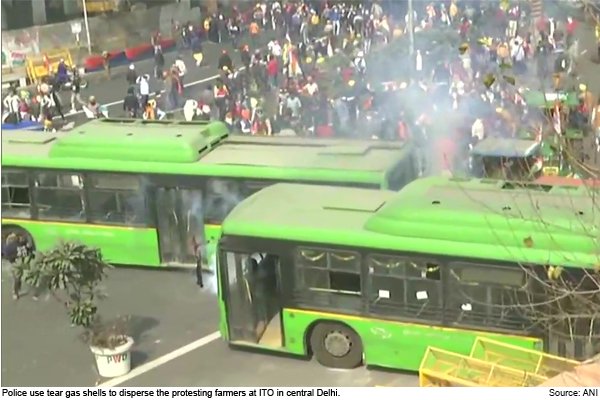 At the same time, there was a clash between protesters and police on the Delhi-Meerut Expressway near Pandav Nagar. The time for the tractor parade of the farmers has been fixed after the Republic Day parade. But the farmers did not listen and entered the capital.