26/05/2021
S. Jaishankar Meets UN Secretary for Vaccine Solution, Other Challenges
During a five-day visit to the United States, Foreign Minister S. Jaishankar met with UN Secretary-General Antonio Guterres on Tuesday, May 25, to convey the importance of a quick and global and effective solution to vaccine procurement.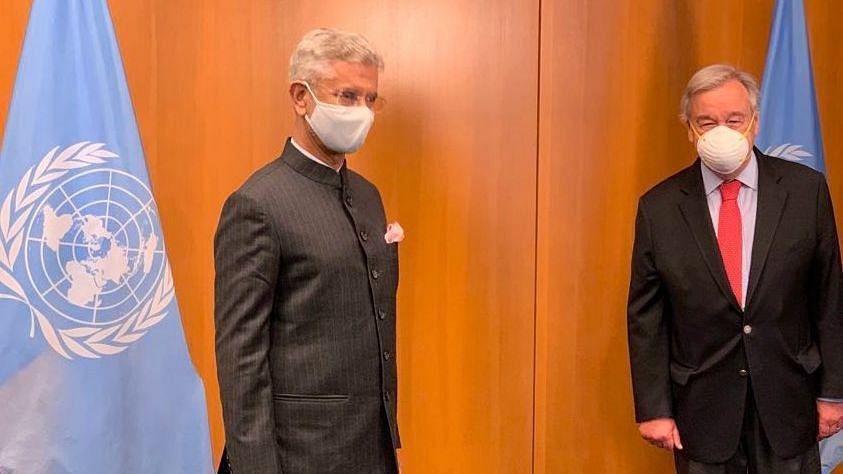 After the meeting, Jaishankar tweeted, "discussed the Kovid challenge, underscoring the importance of finding immediate and effective global vaccine solutions." It is important to strengthen the vaccine supply chain to ensure greater production and proper distribution. "
The Union Minister also spoke on the challenges of combating terrorism and India's relations with its border countries. Jaishankar tweeted, "Combating terrorism and fundamentalism is the priority of the region. In addition, recent developments in Myanmar were also discussed. "
The minister expressed that India values ​​the UNSG's leadership of the United Nations amid these unprecedented times, adding that he "lent support to his candidacy for a second term."
The meeting raised the universal issue of climate change and Jaishankar said that greater resources were imperative for larger ambitions, and that "financing will determine seriousness and reliability."
The minister noted India's creative role in UNSC and explained the priorities of its chairmanship in August.
"Maritime security and technology for peacekeeping meet the needs of the day," he said.
According to the minister, SG recently commended India's peace operations in Goma, DRC.
This was the first in-person Cabinet Minister meeting with the UN Secretary-General since he entered the subcontinent as a provisional member of the UN Security Council in January 2021.
Jaishankar, along with India's Permanent Representative TS Tirumurthy and Deputy Permanent Representative Ambassador K Nagaraj Naidu, referred to the meeting as a "productive strategy session".
Following his meeting with Guterres, the Foreign Minister is scheduled to visit Washington DC to meet with US Secretary of State Antony Blinken. The meeting will probably take place on Friday 28 May.