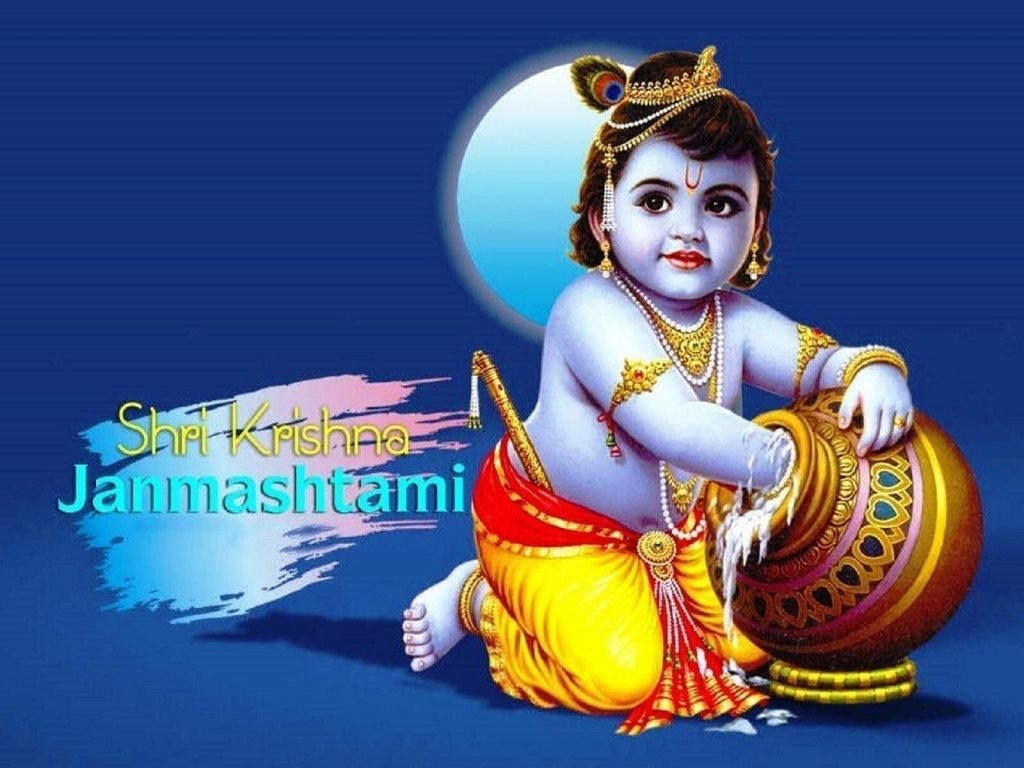 Every year the Ashtami date of Krishna Paksha of Bhadrapada month is celebrated as Krishna Janmashtami. It is believed that on this day in Dwapara Yuga, Lord Krishna was born on earth as Devaki Nandan. On the day of Janmashtami, people keep a fast for Lord Krishna and worship him at 12 o'clock in the night at the time of his birth. Offer all nuts, sweets and 56 bhog and break their fast after worship. The birth of Lord Krishna is celebrated every year as the festival of Janmashtami. It is also known by names like Krishna Janmashtami and Gokulashtami. This year this auspicious festival is falling on 19th August (Friday). In the scriptures, this fast has been described as a fast to free one from 100 sins.
Krishna Janmashtami Puja Muhurta:
Puja Muhurta will start from 09:20 PM on 18th August 2022 and will continue till 10:59 PM on n 19 August 2022.
Glory of fasting on Janmashtami:
In the scriptures, Ekadashi fasting is considered to be one of the salvation and best fasts. But its rules are very difficult, so it is not possible for everyone to keep the Ekadashi fast. In such a situation, you can earn the same virtue as Ekadashi by fasting on Janmashtami. In the scriptures, the fast of this Janmashtami is considered equal to one thousand Ekadashi fasts.
One gets infinite times of chanting:
On the day of Janmashtami, meditation, chanting and night awakening are considered of special importance. It is believed that chanting and meditating on this day yields infinite fold results. Therefore, on the night of Janmashtami, chanting of bhajans of God should be done after awakening.
Protection from premature death:
According to Bhavishya Purana, the fast of Janmashtami is supposed to protect against premature death. It is also said that if a pregnant woman observes this fast, then her child is completely safe in the womb. He gets the blessings of Shri Krishna.
Celebrating Krishna Janmashtami:
Krishna Janmashtami festival is celebrated by Hindus all over the world during 2-3 days. During the festival, drama-dance acts from the life of Lord Krishna are played in 'Krishna Leelas'.
This is followed by sung devotional songs with Jagran throughout the night, fasting and a festival the next day where specially made sweets and delicacies are distributed and enjoyed by all.
Significance of Janmashtami:
The festival of Janmashtami is celebrated with great pomp by Hindus all over the world. According to mythology, Shri Krishna is one of the most powerful human incarnations of Lord Vishnu. Lord Krishna is one such deity in Hindu mythology, about whose birth and death much has been written.
There is a popular saying in the Bhagavad Gita- "Whenever evil rises and dharma suffers, I will incarnate to destroy evil and save good." The festival of Janmashtami celebrates the promotion of goodwill and the end of evil. encourages. This day is celebrated as a holy occasion, a festival of unity and faith.
Janmashtami Puja Method:
Shri Krishna was born on the night of Bhadrapada Krishna Paksha Ashtami at 12 o'clock, due to which this fast starts from morning itself. Worship Lord Krishna with mantras throughout the day and perform the Parana at the end of Rohini Nakshatra. Worship Shri Krishna at midnight. On this day, wake up early in the morning and take bath in Brahma Muhurta.
Meditate on this mantra while taking bath
"Om yajnay yogapataye yogeshraya yoga sambhavay govinday namo namah"
After this worship with this mantra:
"Om yajnaya yajnerai yagyapataye yagya sambhavay govinddaya namo namah"
Now chant this mantra keeping Lord Krishna in the cradle
Vishray Vishrekshaya Vishrapale Vishra Sambhavay Govinday Namon Namah"
Importance of cucumber on janmashtami:
People offer cucumber to Lord Krishna on Janmashtami. It is believed that Nandlal is very pleased with the cucumber and removes all the troubles of the devotees. According to beliefs, cutting it at midnight is considered auspicious. Reason- After the birth of the child from the mother's womb, the navel is cut to separate it from the mother. Similarly, the cucumber and its attached stalk are cut as an umbilical cord, symbolizing the separation of Krishna from Mother Devaki.