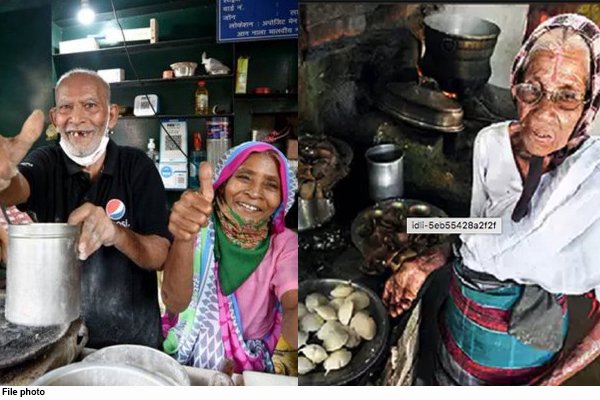 What must have happened in the Corona era to those poor people, who were earning their livelihood by selling fruits, vegetables or food etc. on the sidewalk or somewhere along the road. Neither the government nor the common man is concerned about it. Although the Corona period faced problems for all people, but the most if anyone has suffered is the street vendor. Although one of the most disappointing aspects is that there are millions of NGOs in the country, but no one came to know about these poor people at the time of this disaster.
However, even in the time of such a big disaster, there are some people who are engaged in helping these poor people and it is nice to see that humanity is alive even today. At the time of this disaster, these people came to be the Messiah for those poor people and relieved them of their trouble. Some people sought the help of these poor people through social media and the people of the whole country gave whatever they could. Today we will tell you about some such people ….
Baba's Dhaba's good Luck
Ashutosh of Delhi shared a video on his Twitter, showing an elderly couple crying. Because the Corona period did not come to eat food at their dhabas. The creator of the video also showed the dish he made and asked people to help him. This video became so fast viral on social media that overnight the fate of the elderly couple changed and their dhaba got crowded. Zomato even listed Baba's dhaba.
Vikas Khanna helped idli seller
80-year-old Kamalathal, who lives in Coimbatore, Tamil Nadu, has been feeding poor people for the last 35 years by selling idli for just one rupee. Even in lockdown, he refused to raise the price of idli. As soon as Vikas heard about this Amma, his help came to the fore. He also rationed this old lady Amma through social media.
Mango seller gets millions of help
In Jagatpuri area of ​​Delhi, a fruit was robbed by a mob. Due to this, the fruit seller Chhote Lal suffered a loss of about 30 thousand. He bought those fruits the same day by borrowing money from someone. This entire incident was made by someone and put a video on social media. This video went viral on seeing this. After this, people started to help this fruit seller on social media itself and people helped this vegetable seller by giving millions of rupees.
Egg seller help
The egg cart of a 13-year-old boy was overturned by the municipal authorities in Indore. Authorities also imposed a fine of Rs 100 on the boy for selling eggs on the roadside. During this time the boy lost about 8 thousand rupees. The news became quite viral on social media and people came forward to help him.
Police gave a bike to a girl who sells vegetables
In Dibrugarh district of Assam, a 20-year-old girl used to go from door to door on a cycle to sell vegetables. Seeing this hard work of Janmoney Gogoi for the family, Assam Police could not stay away and they gifted him a motor bike. Actually, a picture of Janamoni was being shared on social media, in which he was seen hanging two big bags in a bicycle. This picture was noticed by the Assam Police and they gathered the complete information about Janamoni and gifted him a bike.
Oldest Indian restaurant re-run in East London
In the Corona era, the daughter of the owner of one of the oldest Indian restaurants in London East appealed to the restaurant via social media. He wrote, "Hey Twitter! My dad owns the oldest Indian restaurant in East London and is struggling with customers, so please show a little love! If you have come to Aldgate then come and eat the curry here which is very good. People took up this appeal and returned to this empty restaurant again.
Vegetable seller gets 2 lakh
The Mumbai Mirror journalist printed a picture of a vegetable vendor sitting on the street divider on the front page. In the photo, the vegetable seller appeared crying and sad. Seeing the grief of the vegetable seller, the people could not keep up and the people gave him a financial sum of 2 lakh rupees in total. Explain that due to heavy rains and water logging in Mumbai, Ashok, who used to sell vegetables in Bhendi Bazaar, was forced to close his shop. Ashok, who fed the family by selling vegetables, could not muster the courage to return home empty-handed and wept on the road divider.
Gifted rickshaw to the poor
Shortly before, a campaign was launched in Bangladesh. All battery rickshaws were being removed as part of this campaign. Dhaka South City Corporation says that many accidents are happening due to battery rickshaws. As part of the campaign, a video of a poor rickshawman came out, who was crying bitterly due to sorrow. The man's name was Rahman, who bought a battery rickshaw by borrowing Rs 80,000. As soon as he started his employment, his rickshaw was confiscated under the campaign of Dhaka South City Corporation. Seeing Rahman weeping on social media, a person named Ahsan Bhuiyan melted his heart and he helped Rahman by giving him a rickshaw gift.
There are no such unknown stories in which people have come forward to help the poor and the needy. So if you can also help any poor and needy who definitely do. Do you know, a little help may bring light in the life of that poor person.
Also read in Hindi: इंसानियत अभी जिंदा है, आइये जानते हैं ऐसे कुछ किस्से जो दिल को छू गये