Guru Ravidas Jayanti 2022: Guru Ravidas is a renowned saint of the Bhakti movement and is respected for his spirituality and his work against casteism. Guru Ravidas is also known as Raidas, Rohidas or Ruhidas. February 16 is the 645th birth anniversary of Guru Ravidas. His devotional songs and verses made a lasting impact on the Bhakti movement.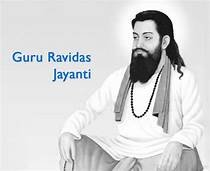 This year, to mark the birth anniversary of Guru Ravidass on February 16, the Election Commission (EC) had postponed the single-phase state assembly elections in Punjab from February 14 to February 20.
Chief Minister Charanjit Singh Channi, various political parties and other organizations had urged the Election Commission to postpone polling as lakhs of followers of Guru Ravidas would visit Varanasi in Uttar Pradesh on Wednesday to celebrate the birth anniversary.
Guru Ravidas was born in 1377 AD at Manduadhe in Varanasi, Uttar Pradesh. Magha Purnima is considered to be his birth anniversary, his birth anniversary is celebrated on this day according to the Hindu lunar calendar. His birthplace is now known as Sri Guru Ravidas Birth Place and is a major pilgrimage place for the followers of Guru Ravidas.
Ravidas Jayanti holds a special significance among those who follow Ravidasiya, a religious sect of Sikhism, who follow Guru Ravidas, including some Kabirpanthis, Sikhs and others honoring the Guru-like saint.
Varanasi's Shri Guru Ravidas Janmasthan Public Charitable Trust has sent invitations to Prime Minister Narendra Modi and Chief Minister Yogi Adityanath for the Sant Shri Guru Ravidas Jayanti (Jayanti) celebrations to be held at Sant Shri Guru Ravidas Janmasthan Temple in Sir Govardhanpur temple area on Wednesday.
The followers of Sant Ravidas have started arriving in the city from different parts of the world.
On the occasion of Ravidas Jayanti, Prime Minister Narendra Modi visit Shri Guru Ravidas Vishram Dham Temple in Karolbagh.
In one of his tweets yesterday, the PM said, "Tomorrow at 9 am on the auspicious occasion of Ravidas Jayanti, I will visit Shri Guru Ravidas Vishram Dham Temple in Karolbagh, Delhi and pray for the welfare of the people there."
In another tweet, PM Modi thanked the saint for dedicating his entire life for the upliftment of the society. He also said that the work of Sant Guru Ravidas temple in Kashi is in full swing and will be completed soon.
Meanwhile, the Delhi government has declared a holiday in view of Ravidas Jayanti and ordered the closure of all schools. "All government, government aided and unrecognized schools of Directorate of Education, Government of National Capital Territory of Delhi (GNCT), Municipal Corporation, New Delhi Municipal Corporation (NDMC) and Delhi Cantonment Board will observe a holiday tomorrow i.e. February 16." Read the statement issued by the officials yesterday.
Although the exact date of birth of the saint-poet Guru Ravidas is not known, it is believed that he was born in the 14th century near the holy city of Varanasi, Uttar Pradesh. In the month of Magha (full moon day) his birth anniversary is celebrated as the exact date is not known.