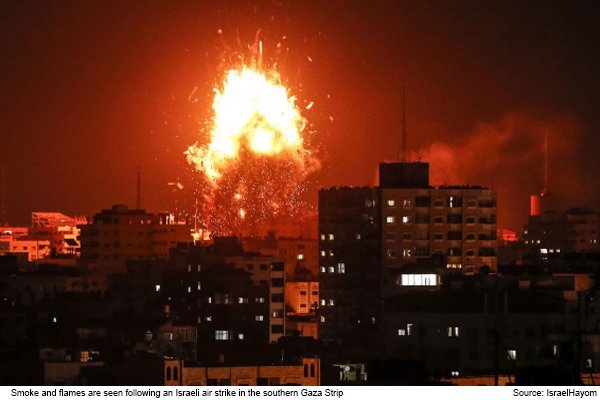 New Delhi: Israeli forces said Hamas, a Palestinian terror organization in the Gaza Strip, fired 13 rockets into southern Israel around 4:30 a.m. Wednesday, 8 of which were deactivated using the Iron Dome anti-missile system. The attack came at a time when Israel was signing peace agreements with the United Arab Emirates and Bahrain.
The IDF said a total of 13 missiles were on fire. The military said soldiers using the Iron Dome missile defense system intercepted eight of the incoming projectiles.
On the one hand, Israel signed the peace agreement between Israel, Bahrain and the United Arab Emirates in the White House, on the other hand, Hamas fired rockets at the same time. According to reports, on the one hand, Israel must sign the draft of the peace agreement between Israel, Bahrain and the United Arab Emirates, mediated by the president of the United States, Donald Trump, and recently Israel was attacked to ensure that peace is not can achieve. .
Two Israeli civilians were injured in this Hamas rocket attack. The IDF said a missile was destroyed by Israel's Iron Dome missile system, which was intercepted in midair, but a missile fell within range and injured two civilians.
Suppose the leaders of Israel, Bahrain, and the United Arab Emirates signed the peace agreement through US President Donald Trump. To this end, an event was held at the White House in the presence of the Foreign Minister of the United Arab Emirates, Abdullah bin Zayed al-Nahyan, the Minister of Foreign Affairs of Bahrain, Abdullatif al-Zayani, and the Israeli Prime Minister. Benjamin Netanyahu. . These leaders signed bilateral peace agreements and later made joint statements with Donald Trump. At the event, Donald Trump said that after decades of fighting, discussions and tensions, there is a new beginning in the Middle East. We came here today to change history.
Palestinian citizens refused to sign the peace agreement between the top leaders of the four countries. In the cities of Hebron, Hebron in the West Bank, Palestinians demonstrated wearing blue masks and waved Palestinian flags.
Let us tell you that some time ago there was an agreement between Hamas and Israel in which Hamas said it would not attack Israel. In return, Israel will open the 13-year blockade of the Gaza Strip. Under this agreement, the supply of oil to the Gaza Strip should also begin. Qatar negotiated this agreement. But Israel said that if Israel was attacked, the agreement would be broken. In such a situation, this attack occurs on a very delicate occasion. While Israel is expected to remain silent for a short period of time in the face of recent agreements, it can always return the favor.
Also read in Hindi: शांति समझौते के विरोध में हमास ने इजराइल पर राॅकेट से किया हमला