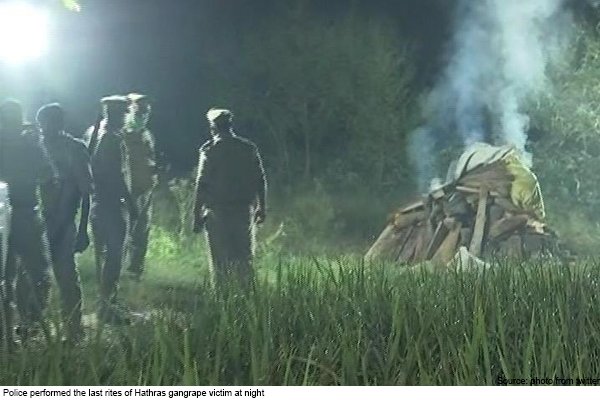 New Delhi: After the death of Hathras gang-rape victim, police arrived at her village Bulgadi in Hathras late Tuesday night. When the victim's body reached the village, the victim's family and villagers were not ready for her funeral, but the police gave the last rites of the gang-rape victim in the absence of the family despite heavy opposition. In view of the huge outrage from the villagers, a large amount of police force was deployed in the area.
According to sources, the body of the gangrape victim reached Hathras around 12.45 pm. When the ambulance was taken to the ghat for the funeral, the people stopped the ambulance and protested. During this time, SDM was also accused of misbehaving with family members. There was also a minor clash between the police and the villagers. Actually, the family and the villagers did not want to cremate the dead body in the midnight, while the police wanted to cremate it immediately. The police then forced the victim to be cremated at around 2.40 pm without any custom and in the absence of family members.
The victim's uncle said that the police was pressurizing him to perform the last rites of the dead body. While the daughter's parents and brothers are not present here, they are in Delhi and have not arrived yet. Asked not to perform the last rites at night and wait for the family, the police said that if you do not, we will do it ourselves. Later the police performed the last rites without waiting for any customs and household.
The UP Congress and the Aam Aadmi Party have termed this act of the Uttar Pradesh police as cowardice. Congress has written on its Twitter account – this is the extent of cruelty. At a time when the government should be sensitive, the government broke all limits of cruelty. Aam Aadmi Party has also put the video of the funeral on its Facebook page.
Let me tell you that the politics of Nirbhaya's kindness with a dalit girl in Hathras of UP has warmed. People's anger is visible on social media. The candle march came out in the Safdarjung Hospital in Delhi, where the victim breathed her last. There is a demand for imposing President's rule in UP.
Also read in Hindi: हाथरस केसः परिजनों के विरोध के बावजूद पुलिस ने रात में किया पीड़िता का अंतिम संस्कार