04/01/2022
Here's why Hanuman Ji is known as Bal Brahmachari and Bajrang Bali?
Everyone knows that Hanuman Ji is called Bal Brahmachari, but Hanuman ji was married. Even after that, he is called Brahmachari, why so?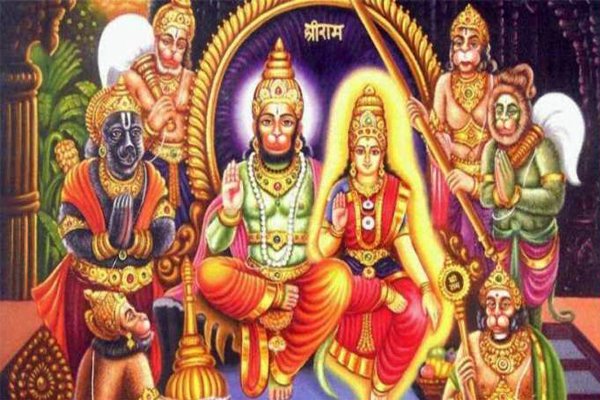 According to the legend, Hanuman pleased the Sun God his guru and he had achieved to get 9 Vidyas from the Sun God.
The Sun God taught 5 Vidyas to Hanuman ji out of 9 major Vidyas, but while teaching the remaining 4 Vidyas, an obstacle arose. Hanuman ji was not married and it was necessary to be married to learn those vidyas. Then Hanumanji's guru Surya Dev asked him to marry him. Hanuman ji decided to get married on the orders of his guru. Which girl should be married to Hanuman ji, now this problem has come to the fore. Then the Sun God proposed to Hanuman to marry his own supremely stunning daughter Suvarchala. After this the marriage of Hanuman ji and Suvarchala took place.
Suvarchala was an ascetic. Therefore, after marriage, Suvarchala was forever absorbed in penance, while Hanuman ji also started acquiring the knowledge of his other four disciplines. Thus even after getting married, Hanuman ji's celibacy fast was not broken.
Even today there is a temple of Hanuman ji in Khammam district of Telangana, where Hanuman ji is seated as a householder with his wife Suvarchala.
It is believed that by visiting here, all the problems in married life are resolved and married life becomes happy. By visiting here, any obstacle in married life gets removed.
Knwon as Bajarang Bali
It is actually Vajr-ang which means, the one who has a body part (ang) like an unbreakable (Vajra). Bali means the one who possesses strength. Hence, it says that Hanuman is so powerful with a great body.
Maruthi, the son of Marutha or Vayu, was a mischievous boy who tried to eat Sun mistaking him to be a fruit. Being the son of Vayu, he could fly farther distances and reached the sun very easily. Indra, the lord of Devathas who saw this, mistook the little boy as some demon and threw his Vajrayudha to stop him from consuming the Sun. This hurt Maruthi and made a dent on his face, after which he was called by the name Hanuman.
When the Vajrayudha (Indra's weapon) hurt Hanuman, he fell unconscious and Vayu came to his rescue, took him into a cave and got enraged that his son got unconscious and drew all the air (Vayu) from the world. As all the living beings struggled to breathe, the whole army of gods like Brahma, Indra, Surya, Kubera, Varuna, Yamaraj etc. came there and pleaded Vayu to perform his duty. Brahma made Indra apologize for his hastiness and revived the consciousness of Hanuman. After seeing this, Vayu was pacified.
Rain of Boons
All the deities were happy that Vayu was relieved and Hanuman is fine now. Vayu blew the wind back into the world. Then Indra blessed Hanuman with powers like immunity from all sorts of weapons making him Vajradeh (body like a diamond) and gave him the name Bajrang Bali. All the deities were so pleased and granted him many boons like extreme speed, effulgence, wisdom, no fear of death (Chiranjeevi). Lord Brahma has granted Hanuman with all the Eight Siddhis and Nine devotions, along with a great boon that the world's deadliest weapon Brahmastra can never harm him.