03/11/2021
Here's why importance of Lakshmi Puja in Diwali, Auspicious time, worship method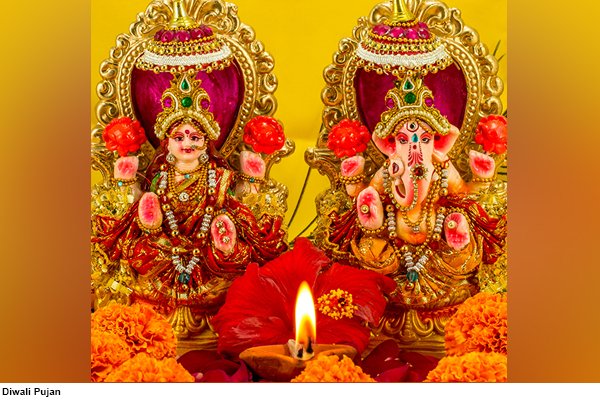 The air of autumn has a distinct fragrance which spreads the fragrance of the beginning of festivals and celebrations all over the country. The Hindu festival of Diwali or the festival of lights is more than 2,500 years old. It is celebrated every year with pomp by Hindu communities around the world. Diwali, which is celebrated every year on the new moon of the month of Kartik, will be celebrated on Thursday, November 4 this year.
Diwali is a festival dedicated to Goddess Lakshmi. On this day, worshipers offer prayers to Lakshmi, the goddess of prosperity and wealth. According to legends, on this day, Goddess Lakshmi visits her worshipers and gives them gifts.
Why is Diwali celebrated?
There isn't just one reason to celebrate the five-day festival. The ancient festival is related to several legends in religious scriptures. Many of these legends are about how good triumphs against evil. It is also believed that the day Rama came back to Ayodhya after spending 14 years of exile, that day is celebrated as Diwali.
What is Goddess Lakshmi's favorite prasad
During Diwali Puja, water chestnut, pomegranate and quince are offered to Goddess Lakshmi. Sitaphal is also kept during the worship. Sugarcane is also kept at the place of worship. Singhade is said to be the favorite of Maa Lakshmi. As bhog, Kesarbhat, Kheer and Halwa are offered to Goddess Lakshmi.
Lakshmi Puja Muhurta and Timings
On Diwali, Lakshmi Puja should be performed during Pradosh Kaal, which starts after sunset and lasts for about 2 hours 24 minutes. The best time for Lakshmi Puja is during Pradosh Kaal, when a stable lagna reigns. If Lakshmi Puja is performed during a stable lagna, then Lakshmiji always resides in your house.
Amavasya Tithi: 4th November 2021 starting at 06.03 am
Amavasya Tithi: will end on 5th November 2021 at 02.44 am
Muhurta for Lakshmi Puja: 06.09 PM to 08.04 PM
Duration: 1 hour 56 minutes
Pradosh Kaal: 05.34 to 08.10 hrs
How to prepare worship according to Vastu
As you prepare to perform the puja, keep these Vastu tips in mind. Clean the house. It is widely believed that Goddess Lakshmi visits the house which is the cleanest. Therefore, before starting the puja, thoroughly clean the entire house by removing unwanted objects and mopping the floor. Sprinkle salt water to purify the atmosphere. Buy essential items for the puja.
Arrange the items related to the puja which include thali, flowers, oil lamps, rose water, rangoli, red cloth, kalash, coconut, betel nut, silver and gold coins. Camphor, incense sticks, dry fruits, red vermilion, whole turmeric, mango leaves, raw rice and sweets. But the most important thing that is needed are the idols of Ganesh, Lakshmi and Saraswati.
Some people also keep books of accounts, tools and education on the altar for worship. Make a place for worship. If you do not have a separate pooja room, then choose a place in the north-east direction of your house. This is the northeast corner which is ideal for worship. Other areas considered sacred are the north, east or west directions. Decorate the room with flowers, rangoli and earthen lamps or light bulbs of green or yellow colours. Decorate the idols and the Kalash using the above mentioned ingredients especially turmeric paste, sandalwood paste, vermilion, rice, flowers and garlands. Hang torans or bandhanwars at the entrance and display revered symbols such as the footprints of Goddess Lakshmi on the floor.
Place the idols on a high place and on the altar, spread red cloth and place the kalash with water, betel leaves, flowers, coins, grains of rice etc. Then, place the Ganesha idol in front of the Kalash, to the left of Goddess Lakshmi. You can also place idols of other deities like Goddess Kali, Lord Vishnu, Lord Shiva and Lord Kuber (the wealth god).
Things to Remember
Never place idols facing each other or at the entrance. Also, avoid having multiple idols of the same god.