25/12/2020
How do we remember Atal Bihari Vajpayee on his birth anniversary?
'मैं हार नहीं मानूंगा, हार नहीं मानूंगा', आज अटल बिहारी वाजपेयी की 97 वीं जयंती है
Former Prime Minister Atal Bihari Vajpayee was born on 25 December 1924 in Gwalior. He studied at Saraswati Shishu Mandir in Gwalior and did his masters in political science from DAV College, Kanpur before doing his BA in Hindi, English and Sanskrit from Victoria College in the city. As a magnate, he was lauded as a statesman politician who would go far beyond his party's major political agenda for the greater good.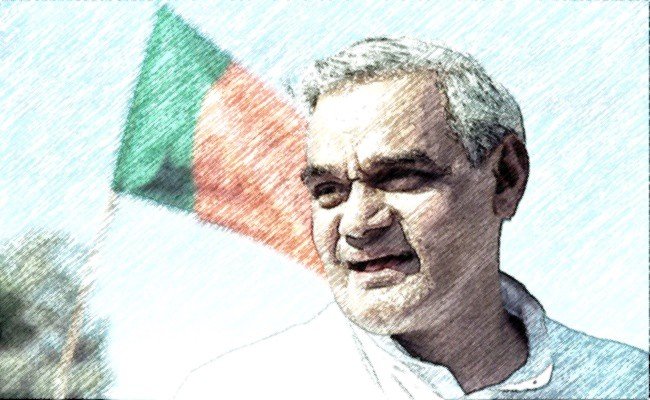 Atal Bihari Vajpayee's political journey
Vajpayee started his political career as a freedom fighter, his first brush with politics was part of the Quit India Movement of 1942. As a student, Vajpayee briefly had an inclination towards communism. But it was the ideology of the Rashtriya Swayamsevak Sangh (RSS) that appealed to him further. He joined the RSS in 1930 as a volunteer. In 1947, Vajpayee started working as a journalist for Deendayal Upadhyay – Rashtradharma (a Hindi monthly), Panchajanya (a Hindi weekly) and newspapers for the dailies Swadesh and Veer Arjun. Later, influenced by Shyama Prasad Mukherjee, Vajpayee joined the Bharatiya Jana Sangh in 1951.
His journey in electoral politics began in 1957, when he contested the Lok Sabha election from three seats and was elected from Balrampur constituency in Uttar Pradesh. Vajpayee was sworn in as a Member of Parliament that year and impressed the then Prime Minister Jawaharlal Nehru with his excellent oratory skills. Nehru predicted that Vajpayee would someday become the Prime Minister of India.
Vajpayee was made the national president of the Jana Sangh in 1968 after the death of Deendayal Upadhyay. In the years that followed, he worked with LK Advani, Nanaji Deshmukh and Balraj Madhok to make the Jan Sangh's presence more prominent in Indian politics.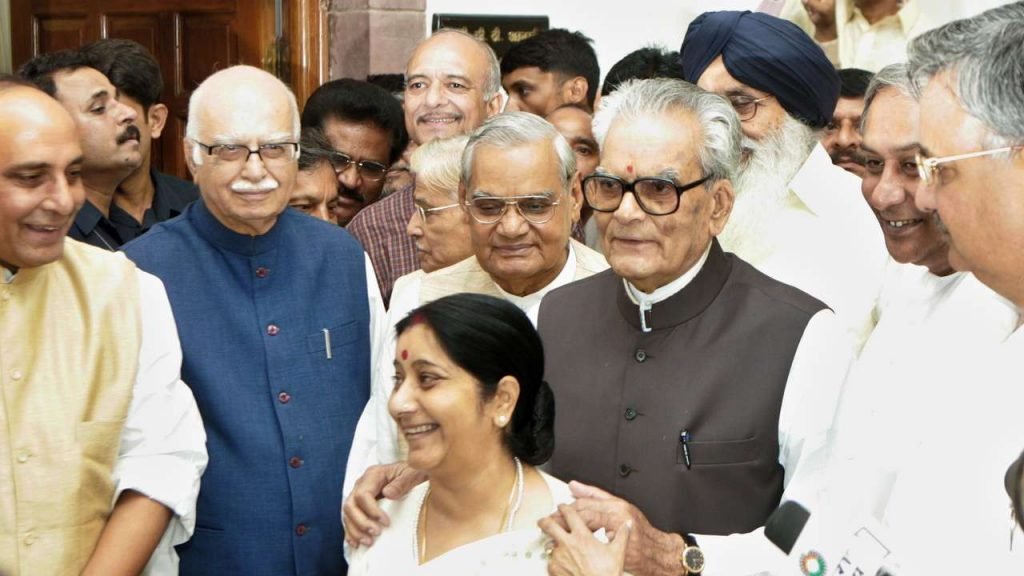 Vajpayee spent months in jail when Indira Gandhi imposed Emergency in June 1975. He along with Advani and Bhairon Singh Shekhawat founded the Bharatiya Janata Party (BJP) in 1980 and was appointed its first president.
In the 1984 elections, after the assassination of the then PM Indira Gandhi, the BJP managed to win only two seats in the 545-member Lok Sabha. The defeat hit Vajpayee particularly hard. He worked tirelessly to form a party; In the next parliamentary elections, in 1989, the BJP won 88 seats.
Vajpayee was a Member of Parliament for five decades, was elected ten times to the Lok Sabha and twice to the Rajya Sabha.
Atal Bihari Vajpayee as Prime Minister of India
Vajpayee served three terms as Prime Minister. His first term in 1996 lasted only 13 days. He was then Prime Minister for 13 months from 1998 to 1999. Finally, from 1999 to 2004, he successfully served a full five-year term. He became the first non-Congress Indian Prime Minister to complete a full five-year term in office.
At the time when the Kargil War was fought, the National Democratic Alliance (NDA) led by Atal Bihari Vajpayee was in power at the center. India's victory affected Vajpayee's image, and he was praised for supporting the armed forces and clearly expressing India's stance on the world stage. After the war, he was elected Prime Minister for the third time. This term made Vajpayee the first non-Congress Prime Minister of India, who would complete a full five-year term. When he failed to return to power after the 2004 general elections, it practically marked the end of his long and eventful political career. A year later, he left active politics.
Vajpayee's death
Vajpayee suffered a setback in 2009, which spoiled his speech. He also suffered from dementia and long-term diabetes. On June 11, 2018, he was admitted to the All India Institute of Medical Sciences (AIIMS) in New Delhi with kidney and urinary infections and chest congestion. He died on 16 August of the same year at the age of 93. Vajpayee was cremated with full state honors at the Rashtriya Smriti Sthal near Raj Ghat. His foster daughter Namita Kaul Bhattacharya lighted his pyre. Thousands of people respected him during his funeral procession. A seven-day state mourning was announced by the central government across India. The national flag was half-tilted during this period.
Awards and recognition
Atal Bihari Vajpayee was awarded the Padma Vibhushan in 1992 for his contribution to the country.
In 1994, he was recognized as the Best Parliamentarian.
In 2015, Vajpayee was awarded the Bharat Ratna, India's highest civilian award.
On 11 May 1911, India conducted its first official nuclear test in Pokhran, Rajasthan, India. The underground tests not only demonstrated the country's scientific capability but also showed the courage of Vajpayee's leadership.
You can change friends but not neighbours.
If India is not secular, then India is not India at all.
Our aim may be as high as the endless sky, but we should have a resolve in our minds to walk ahead, hand-in-hand, for victory will be ours.
Victory and defeat are a part of life, which are to be viewed with equanimity.
Kinchit nahin bhaybheet mein, kartavya path par jo bhi mile, ye bhi sahi woh bhi sahi
Maut ki umra kya hai? Do pal bhi nahin, zindagi silsila, aaj kal ki nahin
Mere Prabhu! Mujhe itni oonchai kabhi mat dena, gairon ko gale na laga sakoon, itni rukhai kabhi mat dena.
Truth cannot be hidden for fear that somebody would exploit it
Sarkarein aayengi, jayengi, party banengi, bigdengi…magar ye desh rehna chahiye
आप दोस्त बदल सकते हैं लेकिन पड़ोसी नहीं।
यदि भारत धर्मनिरपेक्ष नहीं है, तो भारत बिल्कुल भी भारत नहीं है।
हमारा उद्देश्य अनंत आकाश जितना ऊँचा हो सकता है, लेकिन हमारे मन में संकल्प होना चाहिए कि हम आगे बढ़ें, हाथ में हाथ डाले, जीत हमारी ही होगी।
विजय और पराजय जीवन का एक हिस्सा है, जिसे समभाव से देखा जाना चाहिए।
किंचित नहिं भबत में, करतव पथ पार जो भई मिले, तुम ही सो हो वही
मूत की उमरा क्या है? पल पल नहिं, जिन्दगी सिलसिला, आज कल की बात नहीं
मेरे प्रभु! मुजे इतनी ऊँचे कबि मीत देना, गेरोन को गेल न लागै सकून, इतनी रूखि कभि मते देना।
सत्य को इस डर से नहीं छिपाया जा सकता है कि कोई उसका शोषण करेगा
सरकारें आयेंगी, जयेन्गी, पार्टी बनंगी, बड़ेंगी … magar ye desh rehna chahiye
Atal Bihari Vajpayee known for his great sentence skills, Vajpayee was the first non-Congress Prime Minister to complete a full term in office. Apart from excelling as a politician, Atal Bihari Vajpayee was also an extraordinary poet. An inspiration to many new age poets, Vajpayee had said in many of his interviews, "I may become Prime Minister a day ago, but I will never become a poet."