03/09/2021
Hurricane 'Ida' wreaked havoc in the eastern US, from New York to New Jersey, 41 killed so far
New Delhi: Due to heavy rain caused by Hurricane 'Ida', there was devastation in the eastern US on Wednesday. Streets to subway tracks were submerged in New York and New Jersey. Power supply was completely disrupted in many areas. After the storm in the New York area, there are flood-like conditions due to heavy rains and so far at least 41 people have died here. In view of the situation, the governors of both the provinces have declared a state of emergency.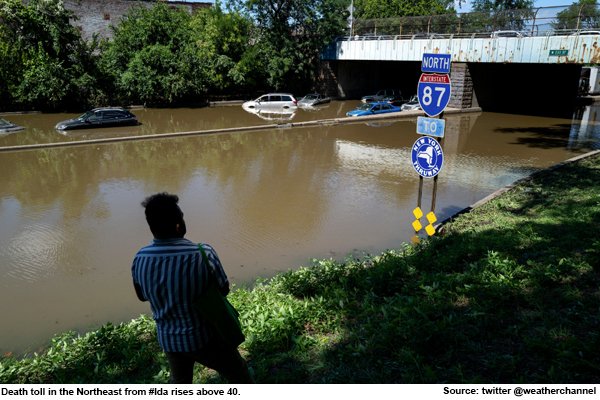 Dozens of people are reported to have died in New York and New Jersey. Including a 2-year-old boy and his parents who drowned in a basement apartment in Queens – as Hurricane Ida ravaged the Northeast. Roads, homes and subways have been submerged in floods caused by the storm. This storm has left a trail of destruction from Maryland to New York.
As of late Thursday, 13 people had died, according to NYPD Department Chief Rodney Harrison. Several of the victims were trapped in a flooded basement apartment and a man was found dead in the back seat of their car on Grand Central Parkway in Queens. "I don't have exact information about how many people are actually missing and how many people have died. But we will continue to work hard to find out all of them.
New York Governor Kathy Hochul tweeted, 'I declare a state of emergency to help those affected by tonight's storm.' At the same time, New York City Mayor Bill de Blasio called Wednesday night's rain a historic weather event. The National Weather Service issued an emergency flood alert for the first time in New York City.
On the other hand, New Jersey Governor Phil Murphy declared a state of emergency, saying that many areas were completely submerged in darkness. On Wednesday night, 81740 complaints of power failure were received. According to the website 'WPVI', Gloucester County of New Jersey also faced a tornado amid the havoc of rain and flooding. As a result, hundreds of houses in the area were damaged. Pesek Mayor Hector Lora said one person was killed when a car was swept away by the floods. At the same time, the bodies of nine people were recovered from the basement of the apartment. Three deaths have been reported in Pennsylvania, while Maryland and Connecticut have died in flash floods caused by rain.
In New York and New Jersey, ordinary people have been instructed not to leave their homes. In both the provinces, no vehicles other than emergency vehicles will be allowed on the road till 5 pm local time on Thursday.
Transit rail service in New Jersey has been suspended until further orders due to bad weather. At the same time, all passenger flights have been stopped due to flooding at Newark Liberty Airport. On the other hand, in New York too, the administration has suspended subway services.