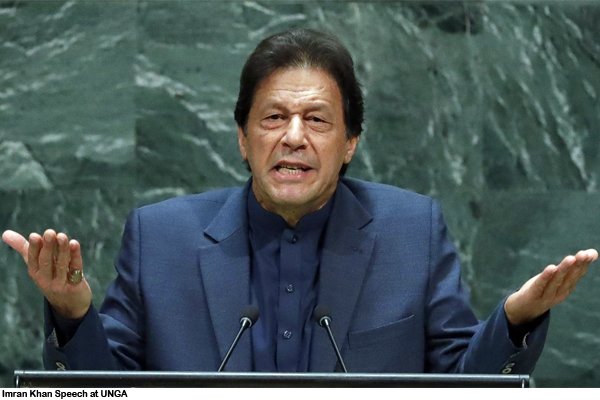 New Delhi: Pakistan once again chanted the tune of Kashmir in the 75th session of the United Nations General Assembly on Friday. Imran Khan in his address opened the pack of lies. In response, the Indian delegation boycotted Imran's address. In fact, in the Right to Reply at the United Nations on Saturday, the first secretary of the India Mission, Mizito Vinito, made it clear that only POK is left on Kashmir and Pakistan should vacate this illegal occupation.
According to news agency ANI, Mizito Vinito further said, "This hall has continuously heard today a person (to the PM of Pakistan) who had nothing to show for himself, who has no such achievement. , On which he could talk, nor does he have any suggestion to give to the world. Instead, we saw that through this assembly, lies, misinformation, war threats and malice were spread. "
Mizito Vinito, First Secretary of the India Mission said, "The words used today by the leader of Pakistan in this great gathering are the very essence of the United Nations. For a country that is deeply buried in medievalism, it is understandable that modern civil society such as the principles of peace, dialogue and diplomacy are far away. "
Explain that in his speech on Friday, Imran Khan talked about the treatment of India's minorities, legislative changes in Jammu and Kashmir, presence of Indian Army, etc. He also warned of a nuclear flashpoint in Kashmir and said there will never be peace in South Asia until the Kashmir dispute is resolved on the basis of 'international legitimacy'.
Responding to Pakistan on behalf of India, Mizito Vinito said, "The leader of Pakistan today said that such people who act to spread hatred and violence should be declared illegal." But when he said this, we were quite surprised, was he referring to himself? "
He further attacked Pakistan and said, "This is the country that gives pension to the terrorists and the listed terrorists from the state fund. The leader whom we heard today, he is the same person who had a debate in his parliament in July." During the terrorist Osama bin Laden was called a martyr.
Mizito Vinito continued at the United Nations, "The leader who has again spewed poison today, he is the one who publicly acknowledged in the US in 2019 that there are still 30-40 thousand terrorists in his country Those trained by Pakistan and fighting (spreading terror) in Afghanistan and Indian Union Territory of Jammu and Kashmir.
He responded in unambiguous terms to Pakistan that Jammu and Kashmir is an integral and indivisible part of India. Whatever dispute is left regarding Kashmir is about the illegal occupation of Pakistan (PoK). We ask Pakistan to evacuate the areas it has illegally occupied.
Also read in Hindi: UNGA में इमरान ने भारत के खिलाफ उगला जहर, भारत ने दिया मुंहतोड़ जवाब