New Delhi: Union Minister of Science and Technology, Earth Sciences and Health and Family Welfare, Dr. Harsh Vardhan launched the 'Food Revolution'.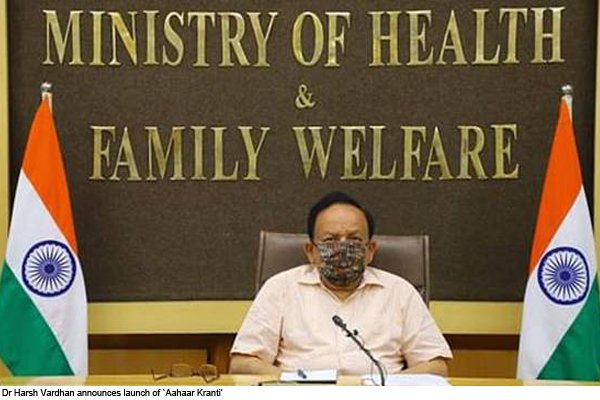 It is a mission dedicated to nutrition and establishing access to locally available nutritious food, fruits and vegetables in India. Vijnana Bharti (Vibha), 'Global Indian Scientists and Technocrats' Forum (GIST), Vigyan Prasar and Pravasi Bharatiya Academic and Scientific Liaison (Prabhas) have come on a platform to launch the "Diet Revolution" mission. Its motto is – good diet – best idea or good diet – good feeling.
The "Diet Revolution" movement is designed to address the serious problem of hunger and diseases in abundance in India and the world. Studies have shown that India produces twice the amount of energy it consumes. However, many people are still malnourished. Lack of nutritional awareness is the main reason for this strange condition.
The movement proposes to address this problem by making people aware of the value and nutritional value of India's traditional food supplements, so as to reap the benefits of local fruits and vegetables and the wonders of a balanced diet. This movement will focus on perfecting a nutritionally balanced diet in local fruits and vegetables.
Visionana Bharti (Vibha) and the Global Indian Scientists and Technocrats Forum have initiated the event, but several other agencies have also joined and agreed to use their expertise and resources. Apart from the ministries and agencies of various central and state governments, the autonomous bodies of the Department of Science and Technology, Vigyan Prasar and Pravasi Bharatiya Academic and Scientific Liaison (Prabhas) have also become a part of this collaborative effort. Many organizations are ready to join this mission.
Initiating this initiative in virtual mode, the Union Minister Dr. Harsh Vardhan said that social welfare programs like Aadhar Kranti are being launched as a mass movement on the first day of Chaitra Navratri of Maa Annapurna.
Today, when the country suffers from a pandemic attack such as the Kovid-19, a balanced diet serves as a special measure to mitigate the effects of this pandemic. At such a time, the need to create awareness about the importance of a balanced diet becomes more important than ever.
He praised foreign Indian scientists, who are at the forefront of this expedition. He said that conveying a balanced diet to every Indian is a very good effort. The motto that you have created for this program is very commendable and slogans like good food and good ideas bring the people of the country on one platform.
He made special mention of the contributions of Dr. Yellowjirao Mirajkar, Dr. Srinivasrao and SriProfulla Krishna of GIST, who together initiated discussions to shape the event as a mass campaign. We know that you guys have taken very important work in your hands. This program will run for many years and will reach the common man like a green and white revolution.
He emphasized that only a healthy person can lead a prosperous society. He said that Indian Ayurveda has become a guide for the whole world. It is high time that we use this knowledge to deal with health and social challenges today.
The objective of the Diet Revolution Development Program is to convey the message of good food to every citizen of the country. It is necessary that every section of the society be included in it, so that this message can reach every corner of the country.
Nakul Prasad, director of Vigyan Prasar, said that the mission would work on multiple dimensions simultaneously. In terms of its objectives, it will strive to promote better awareness, better nutrition and better agriculture. Its message will be imparted through the curriculum in the form of 'what' and 'why' of nutrition or through forms of sports or as instruction of 'how'. Apart from this, its content will be made available in all the mother languages ​​besides English and Hindi, both online and offline. In this program, special attention will be given to the training of teachers, who will give the message of this program to many students after the training, which will reach their families through the students and finally it will be propagated in the society at large.
A monthly (English and Hindi) newspaper 'Diet Revolution' has also been released on this occasion, which is being published by Vigyan Prasar.
Dr. Vijay Bhatkar, President of Visionana Bharti, Mr. Danyaneshwar of Prabhas, Mr. Sushudhirji Bhadauria, General Secretary of Visionana Bharati, Mr. Jayant Sahasrabuddhe, National Organization Secretary of Visionana Bharati, Dr. Yellowji Rao Mirjkar and Dr. Srinivasrao of GIST and Mr. Prafulla Krishna expressed this expectation. The initiative will prove to be a model for the whole world to follow.