22/03/2021
India crosses milestone in Universal Primary Healthcare
New Delhi: India today has crossed another milestone in broadening primary health care. The target of operating 70,000 Ayushman Bharat-Health and Wellness Centers (AB-HWC) by 31 March 2021 has already been achieved.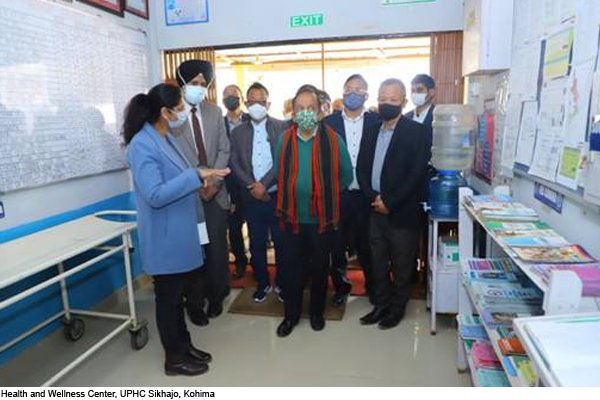 In spite of the Covid epidemic, the ability to increase this momentum has been achieved with excellent coordination between the Central Government and the States / UTs. This has been made possible by the foresight of a pre-determined goal, flexibility in combination, standardization of processes and regular coordination and quick prevention at all levels, which enabled supportive monitoring. It is a testimony to the process of effective decentralization and cooperative federalism.
The launch of the Ayushman Bharat-Health and Wellness Centers (AB-HWC) in April 2018 is notable as an important moment in the history of India's public health sector. The goal of converting 1,50,000 sub-health centers and primary health centers into AB-HWC in urban and rural areas by December 2022 and providing comprehensive primary health care aimed at providing comprehensive primary health care including preventive and health promotion At community level rural and urban areas owe to the community. Also focuses on welfare. This mission mode approach aims to realize India's comprehensive health coverage vision.
Adding a new cadre of workforce, trained non-physician health workers with BSc Nursing / BAMS qualifications, designated as Community Health Officers (CHOs), health workers of the sub-health center AB-HWC and primary care team of ASHA Leads.
In addition to expanding and strengthening existing reproductive and child health (RMNCHA + N) services and communicable diseases services, functional AB-HWCs provide services related to non-infectious diseases (NCDs) (hypertension, diabetes and 3 common cancers Such as oral, breast and cervical cancer) and other primary health services for mental health, ENT, ophthalmology, oral health, geriatric and palliative health care and trauma care, etc.
The required diseases list was expanded for all CPHC services to be provided in one place as care or spoke services.
o HSC-HWC: Existing 7 to 14 Tests
o PHC-HWC: Existing 19 to 63 tests
The list of essential drugs has been expanded in all SHC and PHC AB-HWC. In order to ensure uninterrupted supply of medicines for the treatment of hypertension and diabetes, the National Health Mission's expansion of the National Free Drug Service is being supported.
o SHC-HWC: existing 57 to 105 drugs available
o PHC-HWC: existing 232 to 172 drugs available
The objective of HWC is to demonstrate positive outcomes with high potential in the context of gender equality and to promote primary health care. To date, approximately 41.35 crore people have availed these AB-HWC services. About 54% of them are women.
HWC also focuses on wellness and healthy lifestyles through various activities. Till now, these centers have conducted 64.4 lakh welfare sessions. Depending on the local context, various wellness activities in states, including yoga, local sports, Zumba (in NE states), etc. These centers also follow a calendar of 39 health promotion days in a year.
Preventive health care is an essential component in services provided through HWC. Populations over 30 years of age are counted through community health workers (ASHA and ANM) through a community-based assessment checklist (CBAC) and screening individuals for NCDs based on risk. Identified individuals with chronic disease are placed with the necessary treatment. So far, 9.1 crore screenings for hypertension, 7.4 crore screenings for diabetes, 4.7 crore screenings for oral cancer, 2.4 crore screenings for breast cancer in women and 1.7 crore screenings for cervical cancer in women have been done.
Tele-consulting services are another major component of HWC. More than 9.45 lakh teleconstruction has been done in HWC.
During the Kavid-19 pandemic, AB-HWC played a key role in preventing Covid and running non-Covid essential health services smoothly. Approximately 75% of the total NCD screening has been done during this Covid period (from 1 February 2020 to the present day), reflecting the confidence and confidence of the people in these HWCs during the current public health challenge.
More than 60% of the team leaders (CHOs and Medical Officers) and more than 90% of the field staff are women in the HWC team. This is evidence of gender sensitive approach towards healthcare. Community ownership and community management of these centers is envisaged through the institutional mechanism of Jan Arogya Samitis (JS) and JAS is being formed on all functional AB-HWCs to enable health accountability.
AB-HWC has emerged as an important force for India's health systems. The number of services provided and the pace of implementation reflects the belief that the program is on the right track with the aim of providing affordable primary healthcare to the common people.
The extended service packages provided under AB-HWC are as follows:
Care for pregnancy and childbirth.
Newborn and child health care services.
Childhood and Adolescent Health Care Services.
Family planning, contraceptive services and other reproductive health care services
Management of Infectious Diseases: National Health Program
General patient care for common ailments and minor ailments
Screening, prevention, control and management of non-infectious diseases and control and management of chronic infection diseases such as tuberculosis and leprosy.
Early Oral Health Care
Investigation and basic management of mental health diseases
Common eye and ENT problem care
Elderly and Palliative Health Care Service
Emergency medical services including burns and trauma.