12/01/2022
India vs South Africa: Kohli's 79 helps India to finished on 223; South Africa 17/1
As UltraEdge crossed Virat Kohli's bat, the entire South Africa team celebrated, but the third umpire ruled in favor of the Indian captain.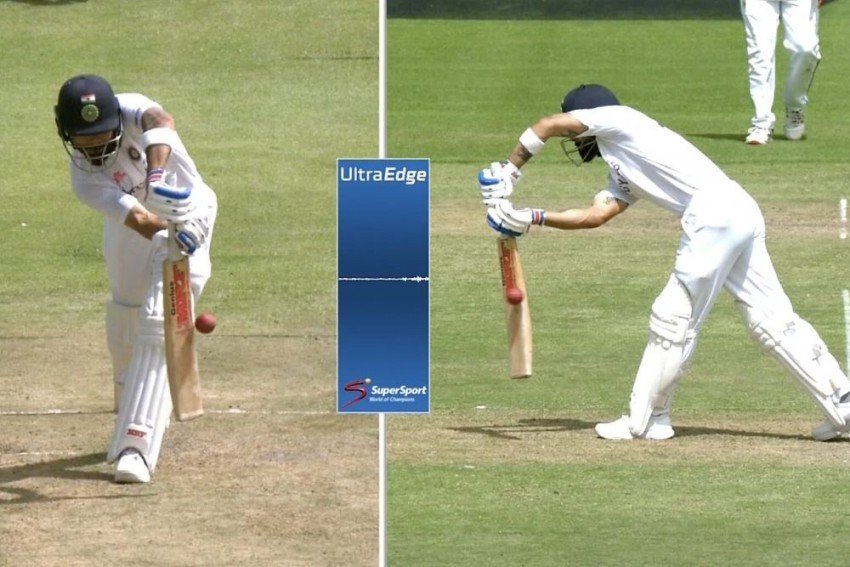 India captain Virat Kohli survived a tough call while batting in the third and final Test of the series against South Africa on Tuesday. While the ground umpire declared Kohli not out, the third umpire too ruled in favor of the Indian batsman, turning down the appeal of the Proteas.
The incident happened on the fourth ball of the 52nd over of India's innings. Duane Olivier gets leg down to Kohli who fails to connect with a look shot. The South African players heard some noise there and started cheering as they felt that Kohli, batting on 39, had scratched the ball. However, neither on-ground umpires Adrian Holdstock and Marais Erasmus were satisfied.
South Africa captain Dean Elgar, convinced by wicketkeeper Kyle Wren, decided to review. As UltraEdge showed a small spike crossing Kohli's willow, the entire South African team started celebrating once again.
However, third umpire Allahuddin Palekar was not convinced that Kohli had notched the ball as he rightly pointed out that there was a difference of daylight between Kohli's bat and the ball when the ultraedge showed a small spike. Further, replays showed that the ball was actually touching Kohli's left pad.
Meanwhile, skipper Kohli looked in good touch, showing ultimate control over the balls bowled outside the off. Apart from a few close misses mainly off Kagiso Rabada's deliveries, Kohli looked solid in the session. Later in the innings, he completed his 28th Test fifty off 158 balls.