22/06/2021
India's industrial development will run when the battery will be charged
In the times to come, it will be extremely important for India to invest in the energy transition to emerge as an industrial power on the global stage. And in this direction, mobility is one area in which this investment will prove to be decisive.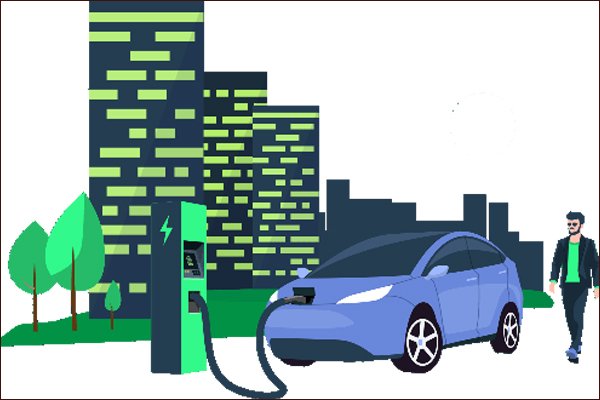 Energy transition or energy transition means the journey from fossil fuels to green fuels. And the transition in mobility here means moving from petrol diesel to electric vehicles.
Towards this end, the World Business Council for Sustainable Development (WBCSD) (WBCSD) and its REmobility alliance today launched a report offering policy suggestions to accelerate the move to electric mobility in India. More than 30 businesses across India's electric vehicle (EV) value chain contributed to the report. Together they have designed a policy framework that advocates for EV adoption in the commercial vehicle sector and increases investment in infrastructure strengthening.
The country needs a holistic policy approach to manage a fast and smooth transition. There is also a need for the development of new energy infrastructure, as this will preserve and create jobs.
This report is also significant because based on the infrastructure available in India, the country aspires to become a global leader in the manufacturing and adoption of Electric Vehicles (EVs). The adoption of electric mobility will also serve as an important part of India's emission reduction, energy security and industrial strategies.
Building on previous work from the Mobility Coalition, WBCSD has now developed this report to help accelerate India's transition to electric mobility and enhance collaboration between policymakers and businesses. This report presents a policy framework that drives growth in EV adoption in commercial vehicle fleets and investment in charging infrastructure. Developed in partnership with over 30 businesses across India's EV value chain, the report outlines eight guiding pathways and 18 actionable policy recommendations for policymakers.
At the launch of this report, Amitabh Kant, CEO, NITI Aayog, expressed hope, "Based on the infrastructure available in India, it would not be wrong to say that India can become a world leader in the field of electric mobility. Fossil fuels are now very soon." History seems to be being made and the future belongs to Electric Mobility. Anyway, there is no legacy issue in India so there doesn't seem to be any problem in transition here. This report will definitely help India emerge in this field."
Nitin Prasad, President, Shell Companies in India, commented, "Electrified vehicles will play a key role in global mobility decarbonization efforts – and will open up economic opportunities in India and around the world. As a united business, governments and society must work together to limit the increase to 1.5°C."
Further, Chetan Maini, Co-Founder and President, SUN (Sun) Mobility, said: "KK is well-positioned to lead India as a service business model in the energy sector, especially in shared mobility. In the 3 wheeler and last-mile segments. Promoting various infrastructure solutions along with effective policy implementation is the key to accelerate e-mobility."
Continuing with this, Kanva Garg, Energy Emobility Lead, EY (EY) India, said: "EV is being seen as a cost improvement measure in the commercial vehicle space in India. And currently it is 'Learning by Doing'. The (learning by doing) mechanism will also contribute to increased collaboration as well as guide policy makers for the EV transition."
This WBCSD report bridges the existing gap between government plans and business actions and aims to initiate public-private collaboration on EV policies. The report outlines eight guiding paths and 18 actionable policy recommendations for policy makers, in line with the government's vision of promoting clean kilometers over vehicles.
A year before the end of FAME, the second phase of India's flagship incentive scheme for EV adoption, this report comes at a crucial moment. While more than two-thirds of the intended plan period has passed, a significant portion of the funds have not been utilised. This report describes how to develop the FAME plan to secure a leadership position for India in the global EV transition. It provides input on non-FAME financial and non-financial measures to promote new business models and address challenges associated with early EV adoption.
Thomas Deloison, Director of Mobility at WBCSD, commenting on the report, said, "The WBCSD REmobility Alliance in India represents progressive businesses with an annual mobility demand of 10 billion kms – all of which want to move towards sustainable mobility options. The report draws on their early implementation experience to suggest improvements to India's EV promotion policies.The policy paper follows important capacity-building material developed by businesses under the alliance, specifically the India EV Adoption Guide and India's EV Adoption Guide. Documentation of the first all-electric car ride-hailing company."
Divya Sharma, Executive Director, India, Climate Group, said, "A well-designed and effective policy environment has the potential to significantly accelerate climate action. Business ambition, action, and insights on EV adoption and electric mobility by governments are invaluable in helping to design and implement effective policy measures for a cleaner future."
As a next step, WBCSD will advocate for the adoption of new policy suggestions by government bodies in India, particularly the relevant ministries and departments at the sub-national level. The organization stands ready to support ministries and businesses in collaborative efforts to design implementation mechanisms.