New Delhi: The three suspected terrorists arrested by Delhi Police in the ISIS module case have a similar educational background. According to information shared by police officials on October 2, all three are engineers and one of them is pursuing a PhD.
Mohammad Shahnawaz, included in the most wanted list of the National Investigation Agency (NIA), is a resident of Hazaribagh, Jharkhand. He studied Mining Engineering from the prestigious Visvesvaraya Institute of Technology.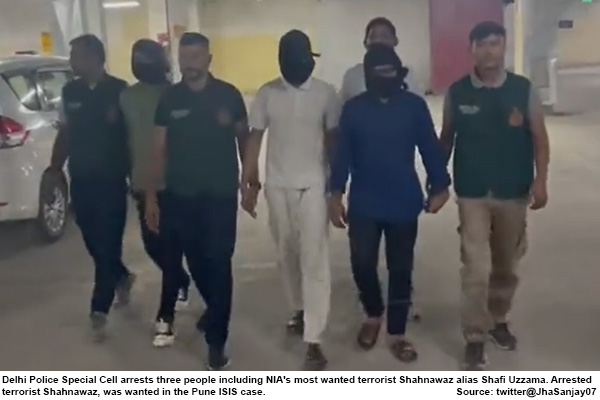 One of his two arrested associates, Mohammad Arshad Warsi, is also a resident of Jharkhand and had studied B.Tech in Mechanical Engineering from Aligarh University. Officials said he was currently pursuing his doctorate from Delhi's Jamia Millia Islamia University.
The third person to be arrested, Mohammad Rizwan Ashraf, completed B.Tech in Computer Science. Police said he had also trained as a Maulvi. Ashraf is a resident of Azamgarh in Uttar Pradesh.
According to officials, during the arrest, incriminating material including material suspected to be used in making IED was seized from the accused.
Shahnawaz was arrested in Jaipur, while Ashraf and Warsi were arrested in Lucknow and Moradabad in Uttar Pradesh respectively, he said. He said that all three have been sent to police custody for a week.
Citing preliminary inquiry, the police said the accused conducted recce of various areas in western and southern India. They wanted to make their base in the Western Ghats, police said.
Delhi Police Special Cell arrests three people including NIA's most wanted terrorist Shahnawaz alias Shafi Uzzama. Arrested terrorist Shahnawaz, was wanted in the Pune ISIS case. @hgsdhaliwalips @CellDelhi #ISIS pic.twitter.com/yVhkvtf84n
— Sanjay Jha (@JhaSanjay07) October 2, 2023
He told that Shanwaz had earlier escaped from the custody of Pune Police and was living in Delhi. There was a reward of ₹3 lakh on him.
Police alleged that primary plastic tubes, iron pipes, different types of chemicals, timing devices etc., which could be used in making explosive devices, along with a pistol and cartridges, were seized from Shahnawaz.
Police said literature related to bomb making was suspected to have been sent by their handlers across the border.
"Their aim was to target well-known people and cause maximum harm," senior Delhi Police Special Cell officer HGS Dhaliwal said during a press briefing. Which is largely active in some areas of Syria and Iraq and some parts of Afghanistan.
(with agency input)