24/12/2021
Kanpur Raid: ₹ 150 crores found in UP businessman's Piyush Jain's house in a tax raid
GST officials said the money was linked to the consignment of goods through fake invoices and without generating e-way bills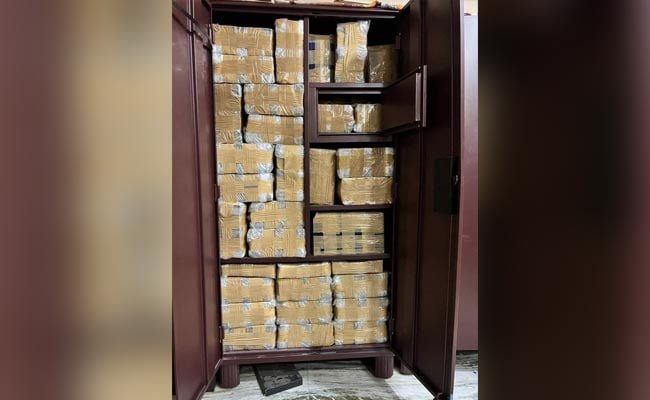 New Delhi: Tax raids on premises belonging to a Kanpur-based trader who is part of the perfume industry, Central Board of Indirect Taxes and Customs (CBIC) chairman Vivek Johri has recovered over Rs 150 crore in cash. said.
Images from the raid show two mountains of cash in two large wardrobes. All bundles were wrapped in paper covers and secured with yellow tape. More than 30 such bundles are visible in each picture.
The raids on several premises in Uttar Pradesh, Gujarat and Mumbai began on Thursday at a factory owned by M/s Trimurti Fragrance – which manufactures the Shikhar brand of pan masala and other flavored tobacco products – in Kanpur, UP.
Raids were also conducted on offices and godowns owned by a transporter – also at M/s Ganpati Road Carriers, Kanpur – following which the action shifted to Piyush Jain's premises.
"Based on intelligence inputs, the residential premises of partners of M/s Odochem Industries who were supplying perfumery compounds were also searched," the GST department statement said.
"During the search proceedings at the residential premises, a huge amount of cash wrapped in paper has been found. With the help of State Bank of India (Kanpur) officials, the process of counting the cash has been started, which may continue till December 24 evening of…" the statement said.
"The total amount of cash is expected to exceed ₹150 crore," it further said.
GST officials said the money was linked to goods transporter sending goods without fake invoices and without e-way bill. These fake invoices were made in the name of fictitious firms.
These challans were of ₹ 50,000 each and over 200 such challans – made without paying GST – were found in four trucks inside the merchant's godown.
Income Tax Department recovered a container worth Rs 150 crore left for the bank
A joint team of Income Tax Department and Directorate General of GST Intelligence (DGGI) brought a container full of cash worth Rs 150 crore recovered from a perfume trader's house in Kanpur after raids. The raids that began on Thursday went on for over 24 hours and a counting machine had to be brought in to count the huge amount of money.
The container with the recovered cash left for the bank and was accompanied by two police cars and Rapid Action Force (RAF) teams.
The Ahmedabad unit of GST (Goods and Services Tax) Intelligence launched a search operation at the factory premises and godowns of Trimurti Fragrance Pvt Ltd (manufacturer of pinnacle brand pan masala and tobacco products) and Ganpati Road Carrier's office in Kanpur. transportation of goods).
According to officials, to avoid generation of e-way bill while carrying goods, the transporter will generate multiple challans of less than Rs 50,000 for a full truck load, allegedly in the name of non-existent firms.
"The transporter was collecting the proceeds of sale of such secret supplies in cash and handing it over to the manufacturer," the DGGI statement said.
The officials allegedly stopped and seized four trucks outside the factory premises, which were driven out of the factory without invoices and e-way bills.
"While taking physical stock at the factory premises, shortage of raw materials and finished products was noticed as the finished products were secretly cleaned. The authorized signatory of the company cleared the goods without GST," the statement said. has given."
Over 200 fake challans used for transporting goods without paying GST were also recovered from the premises of the transporter Ganpati Road Carrier. Cash worth Rs 1.01 crore has reportedly been seized from the possession of the transporter.
The residential premises of businessman Piyush Jain (partner of Odochem Industries in Kannauj, Uttar Pradesh) in Kanpur were also searched, who was supplying perfumery compounds mostly in cash to the company.
During the search of the residential premises, a huge amount of cash wrapped in paper was recovered.