Navratri has a special significance in Hinduism. Different forms of Maa Durga are worshiped on the nine days of Navratri. The devotees of Mahishasura Mardini Maa Durga perform puja with rituals and observe a fast in order to please Mata Rani. One belief says that Navdurga, mentioned in the Durga Kavach of Brahmaji, is seated in nine specific medicines. Let us know which are the medicines in which Maa Durga is enshrined.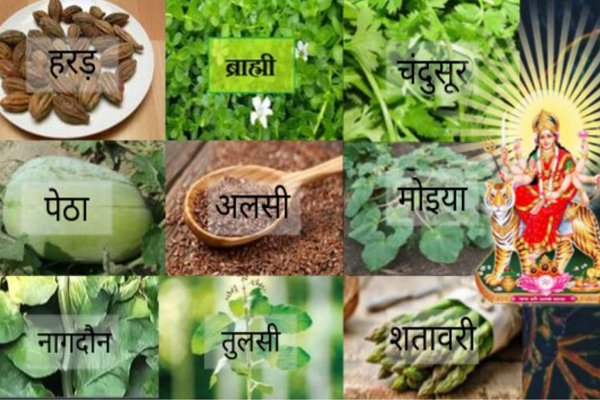 (1) First Shailputri (Harad): The medicine used in many types of diseases is Harad Himavati, which is a form of Goddess Shailputri. It is the main medicine of Ayurveda. It is of seven types Pathaya, Haritika, Amrita, Hemavati, Kayastha, Chetaki and Shreyasi.
(2) Brahmacharini (Brahmi): Brahmi enhances life and memory, removes blood disorders and makes the voice sweet. Hence it is also called Saraswati.
(3) Chandraghanta (Chandusur): It is such a plant which is similar to coriander. This medicine is beneficial in removing obesity, hence it is also called Charmahanti.
(4) Kushmanda (petha): This medicine makes petha sweet. Hence this form is called Petha. It is also called Kumhda, which is helpful in cleaning the stomach by removing blood disorders. It is like nectar in mental diseases.
(5) Skandmata (linseed): Goddess Skandmata is present in linseed in the form of medicine. It is an antidote for Vata, Pitta and Kapha diseases.
(6) Katyayani (Moiya): Goddess Katyayani is known by many names in Ayurveda such as Amba, Ambalika and Ambika. Apart from this, they are also called Moiya. This medicine destroys phlegm, bile and throat diseases.
(7) Kalratri (Nagdaun): This goddess is known as Nagdaun medicine. It is beneficial in all types of diseases and it is a medicine to remove disorders of the mind and brain.
(8) Mahagauri (Tulsi): It purifies the blood and destroys heart diseases.
(9) Siddhidatri (Shatavari): The ninth form of Durga is Siddhidatri, which is called Narayani Shatavari. It is useful for strength, intelligence and discretion.