New Delhi: Prime Minister Narendra Modi on Sunday addressed the nation in his monthly radio program 'Mann Ki Baat'. The Prime Minister started his address about a statue of Goddess Annapurna being brought back from Canada to India and explained the importance of World Heritage Week. He congratulated the people of Prakash Parv. In addition, the Prime Minister appealed to continue the fight against Corona strongly and to take special care of children and the elderly in winter. He then talked about the work of Jonas Masetti; Sravade Damzajjapadha, who teaches in Brazil on the Vedas and the Gita.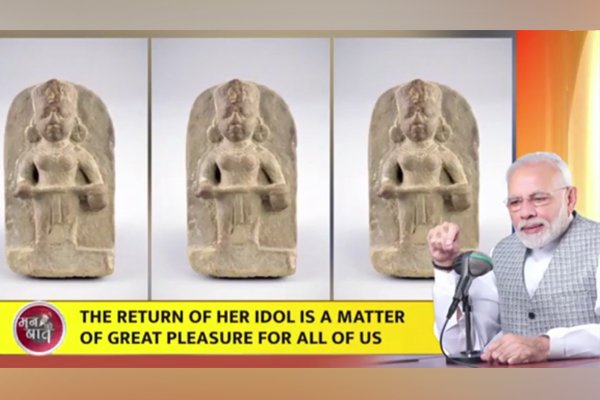 Talking about the agricultural laws recently passed in Parliament, PM Modi said that agricultural reform laws have opened up new avenues for farmers and also provided them new opportunities for progress. PM Modi urged educational institutions to adopt innovative methods and creative platforms for engagement with alumni. The program was broadcast on All India Radio, DD and Narendra Modi mobile app. AIR will broadcast the show in regional languages ​​after the Hindi telecast. The program can also be heard on mobile by giving a missed call on 1922.
PM Modi said that new dimensions are being added in India with agriculture and allied things. The agrarian reforms of the past have also opened doors to new possibilities for farmers. For years, every political party had promised them at some time to fulfill the demands of the farmers. Those demands are fulfilled. After much deliberation, the Parliament of India has legalized agricultural reforms. These reforms have not only ended many bonds of farmers but have also given them new rights. New opportunities have also been found.
He said that recently I have had the opportunity to interact with students of many universities across the country and participate in important events of their education journeys. Through technology, I was able to connect with the students of IIT Guwahati, IIT Delhi, Deendayal Upadhyay Petroleum University, Gandhinagar, JNU, Mysore University and Lucknow University, Delhi. Being among the youth of the country is very refreshing and full of energy.
PM Modi said that India's culture and scripture have always been centers of attraction for the whole world. Many people came to India in search of them and remained here forever, many people went back to their country and became the conductors of this culture.
He said that today many museums and libraries in the country are working on making their collections completely digital. Our National Museum in Delhi has made some commendable efforts in this regard. Work is underway to introduce about ten virtual galleries by the National Museum. Now you will be able to tour Delhi's National Music Galleries sitting at home. Our National Museum in Delhi has made some commendable efforts in this regard.
In the beginning of Mann Ki Baat, Prime Minister Modi shared the good news of the return of the statue of Goddess Annapurna, about 100 years old from Canada. The idol was stolen from a temple in Varanasi and smuggled about 100 years ago. The Prime Minister briefed efforts to secure India's cultural heritage and to be brought back from abroad.