29/12/2020
Margashirsha Purnima auspicious time, know the importance of worship method and fast
The last full moon of the year 2020 will be from Tuesday evening to Wednesday. This full moon is very important. This full moon falls every year on Shukla Paksha Tithi of Margashirsha month. It is also called Margashirsha Purnima.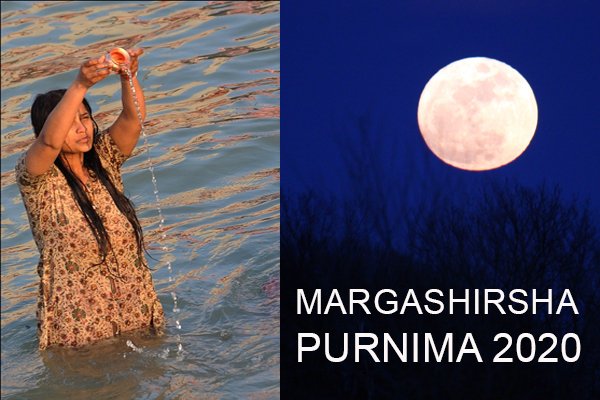 Margashirsha is the 9th month of the Hindu calendar and Purnima day is celebrated as Margashirsha Purnima in the auspicious month of Margashirsha. On this day, the devotees bathe in the holy rivers and worship Lord Vishnu with full devotion. Margashirsha Purnima is also celebrated as Dattatreya Jayanti. Lord Dattatreya is considered the incarnation of Trimurti (Brahma, Vishnu, and Mahesh).
On this day, the devotees observe a day-long fast from sunrise to moonrise and offer arghya (water) and worship both the sun and moon deities. It is believed that on this day the moon was blessed with nectar.
Importance of Margashirsha Purnima
According to mythology, on the day of Margashirsha Purnima, during the Pradosh period, Lord Dattatreya incarnated on earth. Since then, this day has been celebrated as his birth anniversary. On this day, devotees get up very early and take a ceremonial bath, conduct Satyanarayana Puja on the full moon, and worship the Narayana form of Lord Vishnu to overcome all obstacles in life and achieve success. In addition, it is believed that young girls who take a holy dip in the river Yamuna on Margashirsha Purnima will get their desired life partner.
This full moon date is also known as Battisi Purnima. On this day, donations and donations give 32 times more benefits than any other day, hence its name 'Battisi Purnima'. Its auspicious time is from 7.45 pm on 29 December evening till 8 pm on 30 December night. Let us know the importance and worship method of this full moon ..
Lord Satyanarayana is worshiped on this full moon day. Those whose moon is weak should worship the moon, especially on this day. By worshiping the law, the lunar defect is erased as well as the ancestors are also happy.
Auspicious time for Margashirsha Purnima
The evening of December 29 starts at 7.54 minutes
Night of 30 December ends at 8.57 minutes
Margashirsha Purnima Pooja Vidhi
By the way, bathing at any religious place on Margashirsha Purnima is more auspicious.

If this does not happen, then you can take a bath in the Ganges also at home.

During this time one should chant Surya Mantra.

Fasting should be taken after bathing.

After this, the worship of Satyanarayan Swami should be done in the house.

Firstly, basil leaves should be dipped in Ganges water and sprinkled on it, purification should be done.

Then you should read the full text of Satyanarayana Swamy.

After worship, donate white clothes and food items to the poor.

After this, make the Brahmins get food at home.
Do not forget this day even this work
Try not to lie on this day
Avoid doing bad things.
Onion garlic or any kind of non-veg is prohibited on this day.
Do not forget to pay attention to their ancestors.
If your lunar is weak then don't forget to offer arghya to lunar on full moon night.