New Delhi: BJP leader Sudhanshu Trivedi took a jibe at Congress leader Rahul Gandhi's beard on a platform of Aaj Tak on Saturday. Countering this, Congress leader Imran Pratapgarhi said that Modi ji's (Narendra Modi) beard has grown and Rahul ji's beard grows automatically. He said that the grown beard of Rahul ji shows that he is continuously walking on the road regarding public issues.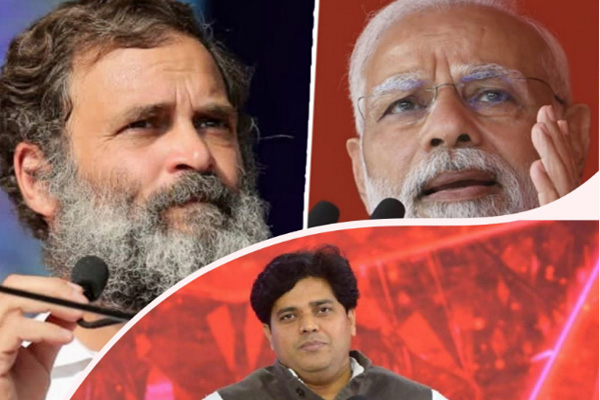 Imran Pratapgarhi said that BJP does not have issues, these days BJP is focusing more on Rahul ji's T-shirt, Rahul ji's beard. He said that the Chief Minister of BJP is making issue of Rahul ji's beard during his speeches in Gujarat. BJP does not talk about the inflation of petrol and diesel, BJP does not talk about the plate of the poor. BJP's focus is only on Rahul Gandhi's journey and the people walking with him.
Imran Pratapgarhi further said that pictures are posted from the official Twitter handle of BJP, in which Rahul Gandhi's trousers, Rahul Gandhi's beard, Rahul Gandhi's T-shirt are there. Imran Pratapgarhi said that Rahul Gandhi has really shown far-reaching thinking this time. This time Rahul Gandhi has set out on a mission to reduce hatred, because Rahul knows that when hatred is reduced then only BJP will be reduced.
Pratapgarhi said that Sudhanshu Trivedi should also have participated in the Bharat Jodo Yatra.
Why is Bharat Jodo Yatra not getting votes?
Imran said that in this tour, Rahul Gandhi meets the elders of 80-90 years. Meet the little kids. This is a simple attempt to connect India. On this, when the director of the program Chitra Tripathi asked why these people who are coming are not able to convert into votes. So on this Imran Pratapgarhi said that we are going to get the benefit of this in the coming times. Recently we have won one state and now let the elections of other states come, we are going to get benefit in them.