02/04/2021
Most expensive vegetable grown in Bihar, you will be surprised to know the price!
Patna: You must have eaten a lot of vegetables, but have you ever eaten a vegetable worth 85 thousand rupees per kg? And the special thing is that the world's most expensive vegetable is now being cultivated in the country as well.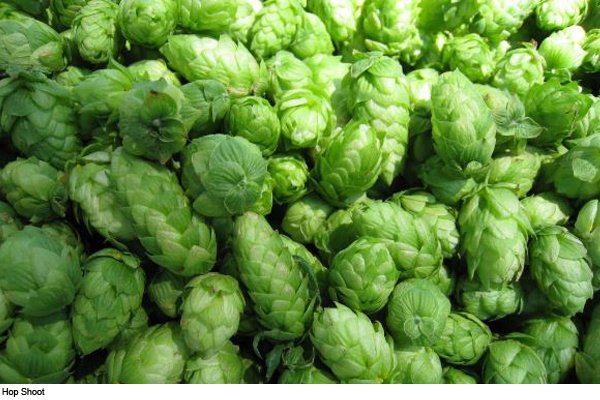 According to Navbharat Times, a farmer in Aurangabad district of Bihar has cultivated this expensive vegetable in his field while cultivating it in a modern way. After all, what is this vegetable and what is its quality, due to which it is being sold so expensive. The world's most expensive vegetable, the name is Hop Shoot. Let us know what is special in vegetables and why it is so expensive?
A vegetable grown by a farmer in Hope Shoots, Bihar caused a storm when an IAS officer tweeted a collage of two pictures, writing, "One kilogram of this vegetable costs around 1 lakh! The world's most expensive vegetable, 'hop-shoot', is being cultivated by Amresh Singh, the first farmer in India. This vegetable can be a game changer for Indian farmers. "Subsequently,' Hop Shoot 'started tweeting about the green vegetable with many people on social media.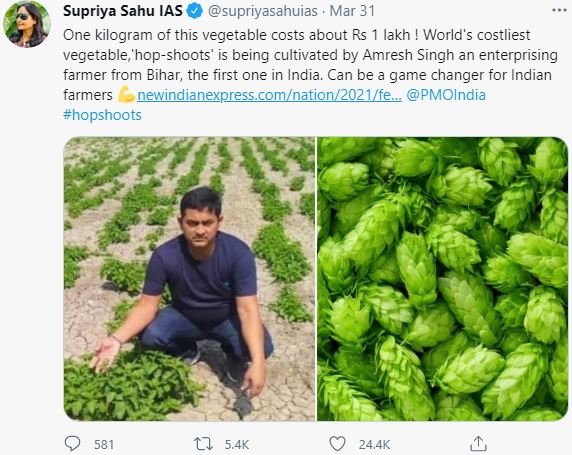 What is the specialty of this vegetable
The world's most expensive one kg of this vegetable is worth about 1 lakh rupees in the international market. Hop shoots are very beneficial for health. It is used in the treatment of many serious diseases, due to which its price is so high. According to the information, cultivation of this vegetable started in Germany. Then gradually it started to be grown in other countries as well, now a farmer has started cultivating this vegetable in Aurangabad, Bihar.
Farmer Amresh Kumar Singh, living in a village in Aurangabad, took a bold step by doing this technical farming. He is cultivating hop shoots in about five kathas in Karamdi village of Navinagar block. Amaresh told that he had brought its plants from Himachal Pradesh. He planted this vegetable in his field about 4 months ago. Now as this plant is growing, their expectations are also increasing.
Amresh told that due to his ill health, he had to go to Delhi for treatment. Meanwhile, his partners did not pay attention to the cultivation of hop shoots, which caused some damage to it. In the conversation, Amresh also said that he is upbeat and will once again cultivate hop shoots. According to the information, this vegetable is not available in the market. It is used in making antibiotics.
According to the information, hop-shoots are helpful in making antibodies which helps in fighting diseases like TB. It is also used in making cancer medicines. Its flowers are also used to make beer. Its flowers are called hop cones. The rest of the twigs are used in food. It also creates ethos, which is quite expensive. The biggest buyer of hop shoots is the US.
Let us tell you that in European countries it is cultivated in large quantities. People like it a lot in Britain and Germany. The spring season is considered to be very suitable for the cultivation of hop shoots. The Government of India is conducting scientific research on the cultivation of this vegetable these days. A lot of work is going on in the Varanasi-based vegetable research institute on its cultivation. Amresh requested for its cultivation which was accepted. If their efforts are successful, then the rest of the farmers in the country will also be encouraged to cultivate it and their income will also increase.