New Delhi: The Secretary of Food and Public Distribution under the Ministry of Consumer Affairs, Food and Public Distribution on One Nation One Ration Card (ONORC) scheme addressed the press conference today.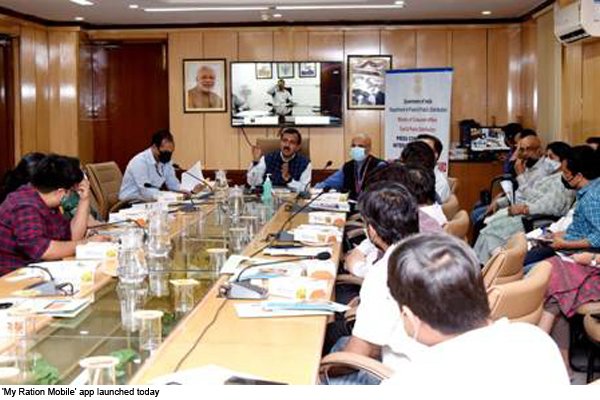 On this occasion, the secretary also launched the 'Mera Ration Mobile' app. This app will be especially beneficial for those who move from their homes to some other place for their livelihood.
Addressing reporters on the occasion, Mr. Pandey said that the scheme initially started in August 2019 in four states and was implemented in 32 states and union territories in a very short span of time by December 2020. The remaining 4 states and Union Territories of Assam, Chhattisgarh, Delhi and West Bengal are also likely to be implemented in the next few months. Mr. Pandey said that about 69 crore NFSA beneficiaries are benefiting under this system which is about 86% of the total NFSA population and on an average 1.5 to 16 crore people are being added to ONORC in the country every month.
In his address, Mr. Pandey said that ONORC is a notable feature for every NFSA beneficiary. It benefited the migrant laborers especially during the Kovid-19 epidemic and they could get food grains at subsidy. During the lockdown, the beneficiaries could avail food grains wherever they were, by availing this facility. Under this, the facility of selection of any FPS was not available. Between April 2020 to February 2021, about 15.4 crore portability transactions were recorded under ONORC.
In order to further facilitate the migrant NFSA beneficiaries, the department is continuously collaborating and partnering with other ministries and departments. He said that the Ministry of Labor and Employment is being taken to integrate O NORC with Pravasi Portal.
ONORC was made part of the PM Swanidhi scheme of the Ministry of Housing and Urban Affairs, programs were organized for the awareness of migrant workers using the services of Indian Railways, including Shramik Special. Under this, audio-visual demonstrations and proclamations were made at railway stations, as well as messages were disseminated through the Ministry of Information and Broadcasting, Press Information Bureau, MyGov, Bureau of Outreach and Communication.
In order to make the beneficiaries aware, a proclamation is being made at more than 2400 railway stations across the country in Hindi and local languages. Also, a radio advertisement with the Prime Minister's message is being promoted from 167 FM radio and 91 community radio stations in the country. Promotional banners have been placed on state transport buses in all states and union territories of the country. At the same time people are also being made aware through banners and posters on all FPS. Various social media platforms including Twitter, YouTube are also being used. The department is continuously training district level officers, field staff and FPS dealers for capacity building through video conferencing and webcasting in a systematic manner.
Food and Supplies Department is running a nationwide campaign of ration card portability in ONORC under the National Food Security Act NFSA. This arrangement facilitates all NFSA beneficiaries, especially migrant beneficiaries. Under this, the beneficiary is entitled to take the entire ration or some part of it from any cheap rate shop of the country i.e. FPS. This can be availed by biometric or Aadhaar certification. With the help of this system, the family members of such migrant laborers also get the facility to get the remaining ration in the event of return home from the same ration card from other place.