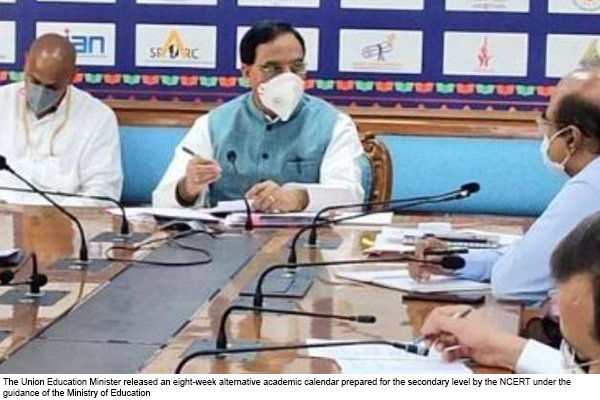 New Delhi: With the help of parents and teachers to study children at home due to Kovid-19 epidemic, NCERT has guided students, teachers from first class to twelfth grade under the guidance of Union Ministry of Education. And has created an alternative educational calendar for parents.
The Alternative Academic Calendar (AAC) for primary and secondary classes for 4 weeks and next 8 weeks has already been released. Earlier, the Union Minister of Education released an alternative academic calendar for secondary and higher secondary levels. Today, Union Minister of Education, Shri Ramesh Pokhriyal Nishank released an alternate academic calendar of next 8 weeks for the secondary level through virtual medium.
Mr. Pokhriyal, in his address on the occasion, said that this alternative calendar would provide teachers with guidelines for the use of various technologies and social media platforms. It aims to make teaching work interesting, fun, which students, parents and teachers can use in teaching at home. However, mobile phones, radio, television, SMS and various social media platforms are being used at different levels in teaching work at home.
The Education Minister underlined that many of us may not have internet facility in mobile phones or are unable to use social media platforms like WhatsApp, Facebook, Twitter, Google etc., so this calendar will guide teachers that How can they help students and parents through SMS or phone call. To implement this calendar, parents are expected to help the students with the level of elementary education.
Mr. Pokhriyal said that this calendar will cater to the needs of everyone, including the differently-abled (children with special needs). Audio books, radio programs, video programs will also be available in it.
This calendar also includes interesting and competitive activities for each week based on the syllabus taken from the text books. Its main objective is to increase learning capacity.
This will help teachers and parents to assess the progress of learning of children and it will develop the ability to learn things beyond text books. The activities given in the calendar are meant to promote learning ability at the center and this goal can be achieved through resources and text books used by children in various states and union territories.
It also includes practical learning activities like artistic education, physical practice, yoga, vocational skills etc. Class-wise and subject-wise activities are tabulated in this calendar.
Activities related to Hindi, English, Urdu and Sanskrit-4 languages ​​are also included in this calendar. Through this, strategies to reduce stress or depression in students, teachers and parents are also included. In this calendar, a chapter wise link to the syllabus on the Government of India portal Deeksha, NROER and e-Pathshala has been provided.
The nature of all the activities given in it is suggestive. There is no compulsion of order. Under this, teachers and parents can choose only those activities in which the student is showing interest, apart from the order.
NCERT has already started a reactionary session with students, parents and teachers, which is available on the Prabha TV channel (Kishore Manch) itself. In addition to channel number 128 on Free-DTH, it can be tuned to Dish TV # 950, Sun Direct # 793, Jio TV and Tata Sky # 756, Airtel # 440, Videocon Channel # 477.
The Kishore Manch app can be downloaded from the Play Store and can be connected live through the official YouTube channel of NCERT.
Every week between Monday to Saturday, students from first grade to tenth grade get a live session in a time slot of 2:00 to 4:00 pm once a week. Whereas for 11th and 12th live sessions of two hours per week are provided. These live sessions have an interactive broadcast for the audience. Along with this, interesting activities are also done for students while teaching subjects. SCERT / SIE, Directorate of Education, Kendriya Vidyalaya Sangathan, Navodaya Vidyalaya Samiti and CBSE also participated in the calendar release video conferencing program. This 8-week calendar for secondary level is available on NCERT website for all states and union territories.
This calendar will empower students, teachers, school principals and parents and will make the online education process at home interesting by combating the Kovid-19 epidemic and strengthen the tradition of learning from home school.
Also read in Hindi: कोविड महामारी के चलते NCERT ने जारी किया वैकल्पिक शैक्षणिक कैलेंडर