21/05/2021
Nepal's President Bhandari asked political parties to stake claim to form new government
Read in Hindi: नेपाल के राष्ट्रपति भंडारी ने राजनीतिक दलों से नई सरकार बनाने का दावा पेश करने को कहा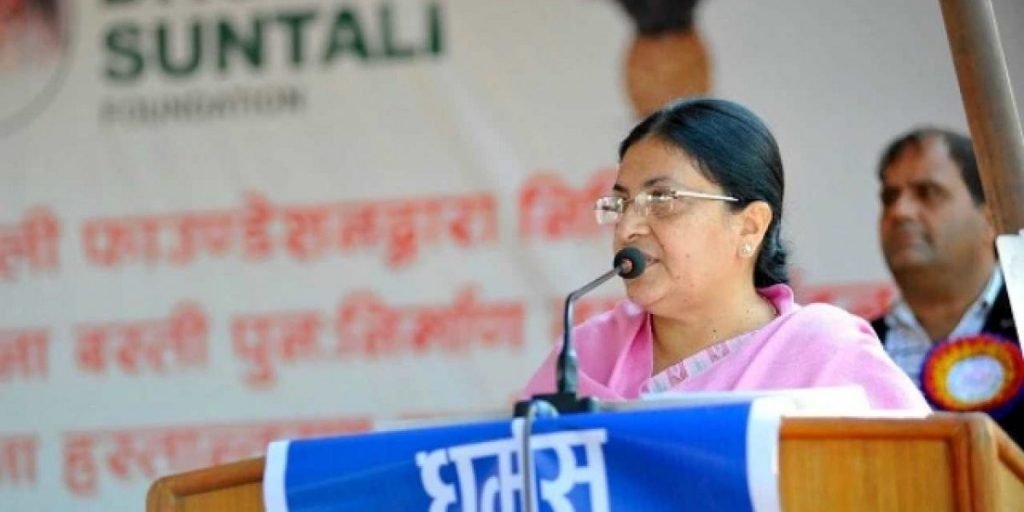 Kathmandu, May 20: Nepal's President Vidya Devi Bhandari on Thursday urged political parties in the country to stake claim to form a new government, as Prime Minister KP Sharma Oli reportedly alleged to prove his government's majority in the House Had expressed reluctance to undergo another floor test. Of representatives.
Oli, who is the chairman of the Communist Party of Nepal-Unified Marxist-Leninist (CPN-UML), was sworn in as Prime Minister of Nepal in accordance with Article 76 (3) of the Constitution. Significant vote of confidence in Parliament.
The CPN-UML is the largest party in the 275-member House of Representatives with 121 seats. Currently, 136 votes are needed to form a majority government. He was required to obtain a vote of confidence in the House of Representatives within 30 days of his appointment to the post.
On the recommendation of Prime Minister Oli, the President has given time till 5 pm on Friday evening for the parties to form the new government.
Earlier on Thursday, a recommendation to this effect was sent to the President's Office in the Council of Ministers meeting.
The President's Office said that the government had sent a request to implement Article 76 (5) as Prime Minister Oli, it has been revealed that another parliamentary is not in the mood to undergo a floor test because of the complex results otherwise There is no possibility of Internal mobility within the parties represented in the Federal Parliament.
Since the vote, differences have been going on between Oli and the party's rival faction leader Madhav Kumar Nepal.
Earlier, Articles 76 (2) and 76 (3) of the Constitution have been tested.
The President's call clearly shows that the 69-year-old Oli does not have majority support in Parliament after losing the election to the ruling party candidate for the Upper House in Bagmati Pradesh.
Home Minister Ram Bahadur Thapa lost the election to ruling party candidate Khim Lal Devkuta during the voting on Thursday.
Nepal's political crisis on 20 December last year after President Bhandari dissolved the House and announced new elections on 30 April and 10 May on the recommendation of Prime Minister Oli, amid a struggle for power within the ruling Nepal Communist Party (NCP). I arrived
Oli's move to dissolve the House opposed a large section of the NCP led by his rival Pushp Kamal Dahal 'Prachanda'.
In February, the apex court reinstated the dissolved House, shocking Oli, who was preparing for the mid-term election.
As parliamentary politics is rife with numbers, Nepal is reeling under shortages of medical supplies, mismanagement of the situation by the state, infections and deadly incidents amid a second wave of epidemics.
Nepal reported 246 new COVID-19 fatalities on Wednesday, taking the death toll to 5,657.