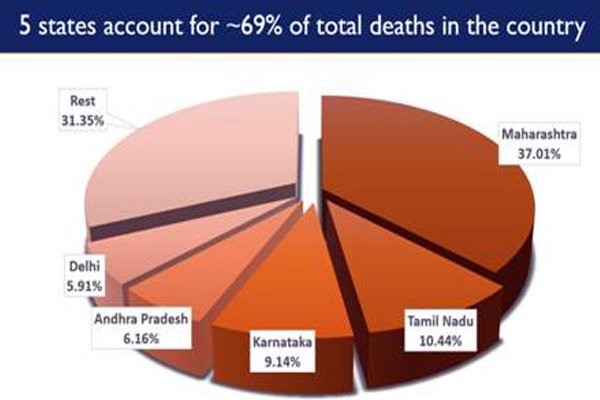 New Delhi: A large number of patients continue to be healthy every day in India. The recovery rate, which is continuously rising upwards, has reached 78.28 percent today. During the last 24 hours, 79,292 patients have been discharged from hospital after recovering.
The total number of cured patients is 38,59,399. The gap between curing patients and active cases is steadily increasing. Today this gap has exceeded about 28 lakhs (28,69,338).
Today the total number of active cases is 9,90,061.
About half (48.8 percent) of the active cases have been reported from the three states of Maharashtra, Karnataka and Andhra Pradesh. About a quarter (24.4 per cent) of the active cases have come from the states of Uttar Pradesh, Tamil Nadu, Chhattisgarh, Odisha, Kerala and Telangana.
Of the total active cases, 60.35 per cent are from Maharashtra, Karnataka, Andhra Pradesh, Uttar Pradesh and Tamil Nadu. The number of patients recovering in these states has reached nearly 60 percent (59.42 percent).
There have been 1,054 deaths in the last 24 hours. Of the new deaths, around 69 per cent occurred in five states / union territories like Maharashtra, Tamil Nadu, Karnataka, Andhra Pradesh and Delhi.
Maharashtra (29,894 deaths) has recorded more than 37 per cent deaths. In the last 24 hours, 34.44 percent (363 deaths) have been reported in Maharashtra.
Also read in Hindi: पिछले 24 घंटों में 79,000 से अधिक मरीजों की अस्पताल से हुई छुट्टी