19/05/2021
Oxygen Express transported more than 1000 metric tons of oxygen in one day
Also read in Hindi: ऑक्सीजन एक्सप्रेस ने एक दिन में 1000 मीट्रिक टन से अधिक ऑक्सीजन पहुंचाया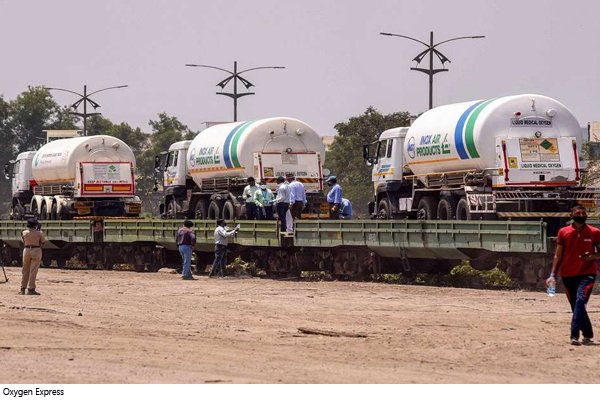 New Delhi: Indian Railways continues to deliver liquid medical oxygen (LMO) to various states of the country by overcoming all obstacles and finding new solutions. So far, 11030 metric tonnes of liquid medical oxygen (LMO) has been delivered by Indian Railways to more than 675 tankers in various states of the country.
Oxygen Express has been transporting around 800 metric tonnes of liquid medical oxygen daily for the last few days. Oxygen Express started the delivery of oxygen 23 days ago on 24 April and 126 MT LMO was delivered to Maharashtra that day.
In a little more than 24 days, the Indian Railways has increased the delivery of oxygen and delivered 11030 MT of medical oxygen to 13 states. In the complex operational route planning scenario from across the country, Indian Railways carried oxygen from Hapa and Mundra in the west, Rourkela, Durgapur, Tata Nagar, Angul in the east, Uttarakhand, Karnataka, Maharashtra, Madhya Pradesh, Andhra Pradesh, Tamil Nadu, Haryana, Telangana, Punjab. , Has delivered oxygen to Kerala, Delhi and Uttar Pradesh.
Railway Oxygen Express is setting new and unmatched standards in driving goods to ensure delivery of oxygen assistance at high speed. The average speed of goods trains has been more than 55 km in most of the long distance cases. Keeping in view the emergency situation in the Green Corridor of high priority, the operating teams of various divisions are working in very challenging conditions so that oxygen can be delivered in the fastest possible time. The technical stoppage for personnel changes in various sections has been reduced to 1 minute.
Railroads have been kept open and high vigilance is being exercised so that Oxygen Express can arrive on time.
All this work is being done in such a way that other freight operations are not reduced.
It is worth noting that the journey of 175 Oxygen Express trains has been completed, providing relief to various states.
It has been the endeavor of the Indian Railways to deliver as much oxygen as possible to the states requesting oxygen in the shortest possible time.
Till the news was written, 521 MT in Maharashtra, about 2858 MT in Uttar Pradesh, 476 MT in Madhya Pradesh, 1427 MT in Haryana, 565 MT in Telangana, 40 MT in Rajasthan, 480 MT in Karnataka, Uttarakhand. 200 MT, 350 MT in Tamil Nadu, 81 MT in Punjab, 118 MT in Kerala and about 3794 MT oxygen have been delivered to Delhi.
Carrying new oxygen is a very dynamic task and the data changes all the time. Late night, more oxygen express trains will start the journey.
Railways have mapped various routes with oxygen supply locations and have prepared themselves as per the growing requirement of the states. Indian Railways provide tanker states to bring LMOs.